Wow what an amazing week. Everything went so smoothly and I'm so relieved and happy.
Now for everyone not there…
The Big Day. Wednesday the 14th.
Scott had to go in to work a little bit that morning so I spent the morning relaxing and getting ready on my own. I went out to get my make up done and pick up the cake and Scott came home and cleaned everything up and got it all ready for everyone coming over later. I got home, we got dressed and then headed into the city (by tram of course!) for the ceremony.
We had only booked the small room at the registry office for the wedding, but since there was no one else there they moved us into the big room! This was good since we had a few last minute extra guests (the nephews). The ceremony went smoothly (except for the lady saying 'Perkins' instead of 'Perkin' even though we'd just gone over it in the other room!!!) It was really great that my family got to listen in on speakerphone! It was a last minute suggestion by Kate but I'm so glad it worked out! They stayed up until 1:00 AM and had a little celebration at home in Ottawa!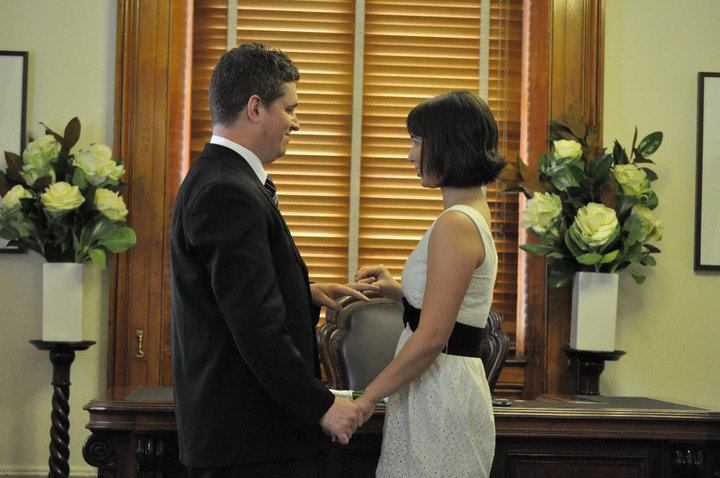 This is what Rosemarie had to say about it:
"listening to the ceremony was nice. it was kind of peanuts teacher style but we could understand what was going on and tell who was talking. and we could hear the vows and things. it was really nice being able to listen to it though. after we ate fondue and had champagne. kate got really into everything. she even wore a dress!"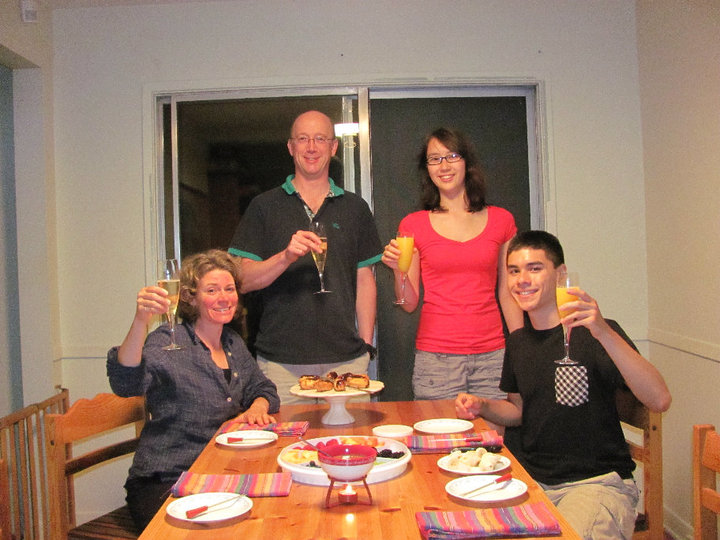 I was only kind of nervous the whole time and I didn't get teary until right after the vows when dad told me (over the phone) that they could hear everything and there were some tears there and they would have a toast for us. So great.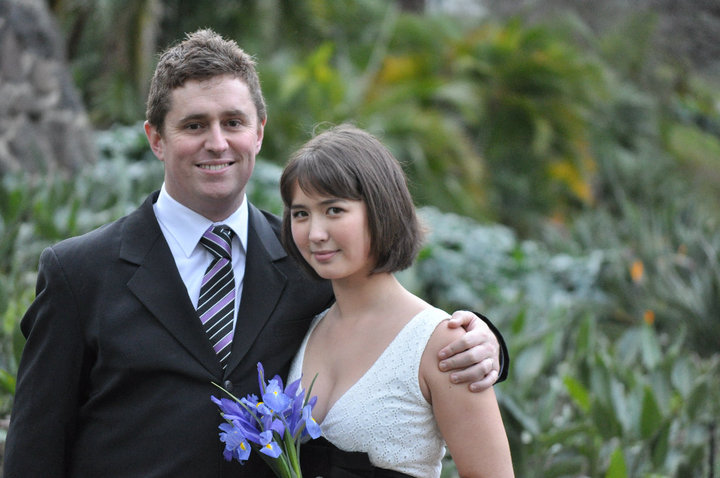 After the ceremony Rhiannon took a bunch more pictures for us around the city, and then we took the tram back to the house for some drinks and cake. There was 14 of us that day (Scott's parents, both Scott's sisters and a boyfriend, Scott's brother and his wife and two children, Rhiannon, and my friends Chris and Trang). We drank lots of beer and champagne, and WAMPAGNE (when Jessie accidentally topped up my wine with champagne) and devoured our delicious delicious hazelnut cake from Ganache (my favourite chocolate place everrrrr), looked at the pictures, and then headed down the street to Fiesta for a Mexican feast.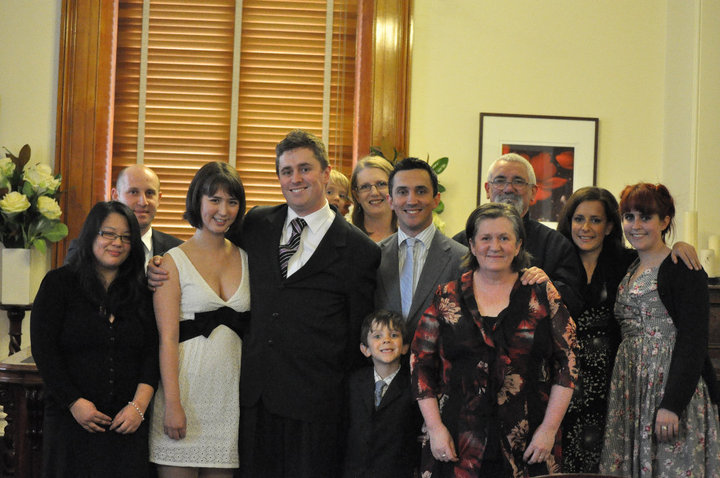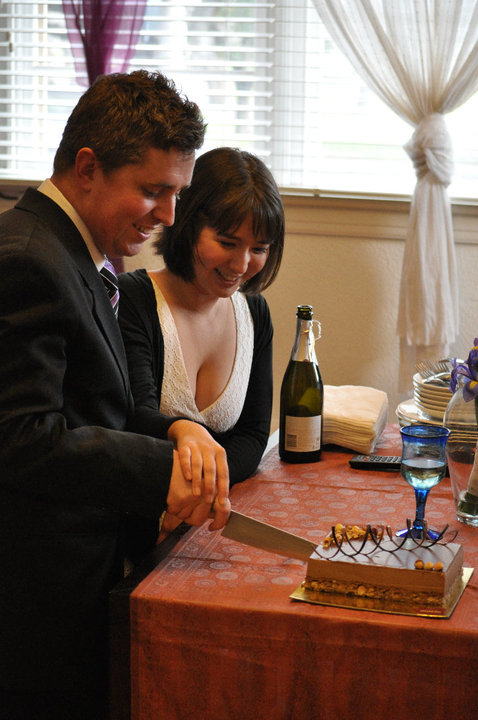 The meal was nice and so were the enormous margaritas. I had prawn fajitas and Scott had the veggie combo plate, like usual.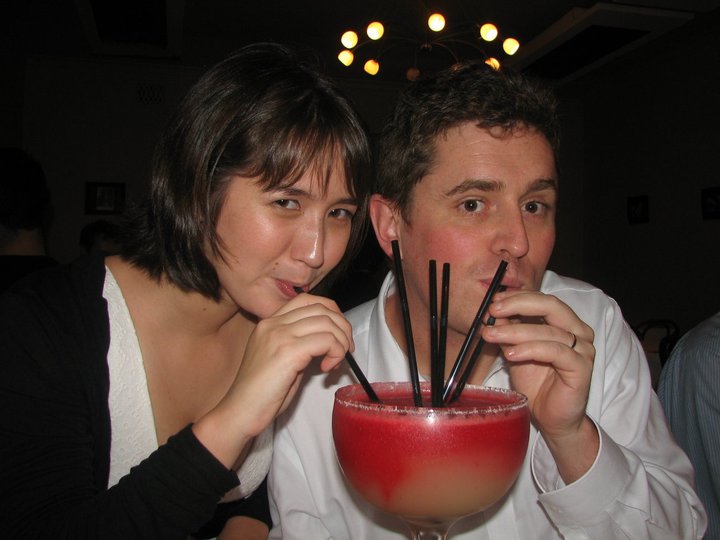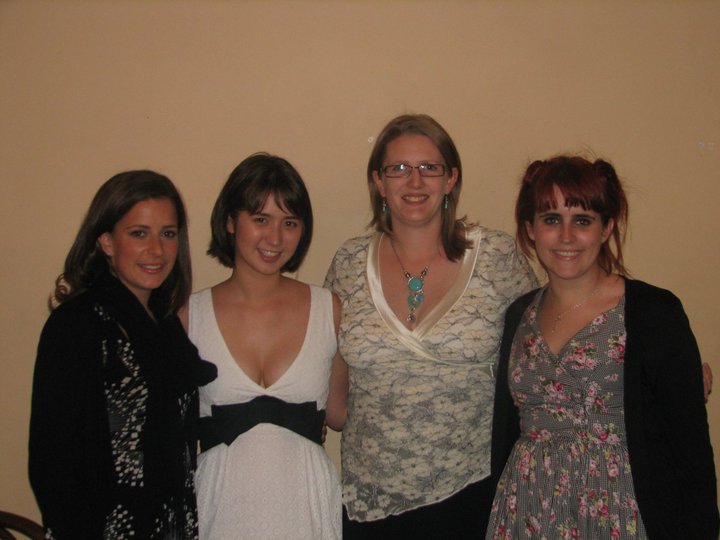 (NEW SISTERS!)
We all ate too much and headed home after the meal. And to bed early since a lot of people had to work the next morning!!
On to part 2….