Last weekend was nice. We went out for dinner with Scott's aunt on Friday (I had fish and chips), and then Scott and I went over to Brian's for games. On Saturday I bummed around the house while Scott went out and watched the Canucks game at a bar with some friends (it was hailing, I wasn't going out!). Then on Sunday we went to Metrotown and did a mega shop.
Interspersed in all that were some tasty treats!
While Scott was at the bar I made myself homemade chicken nuggets and some yam fries. Unfortunately my yam fries turned out totally mushy and kind of gross. So…. I saved them and the next morning I toasted a bagel, smeared some Laughing Cow on it and the mushy yam on top of that! Rosemarie thought it would be gross, but it was yummy!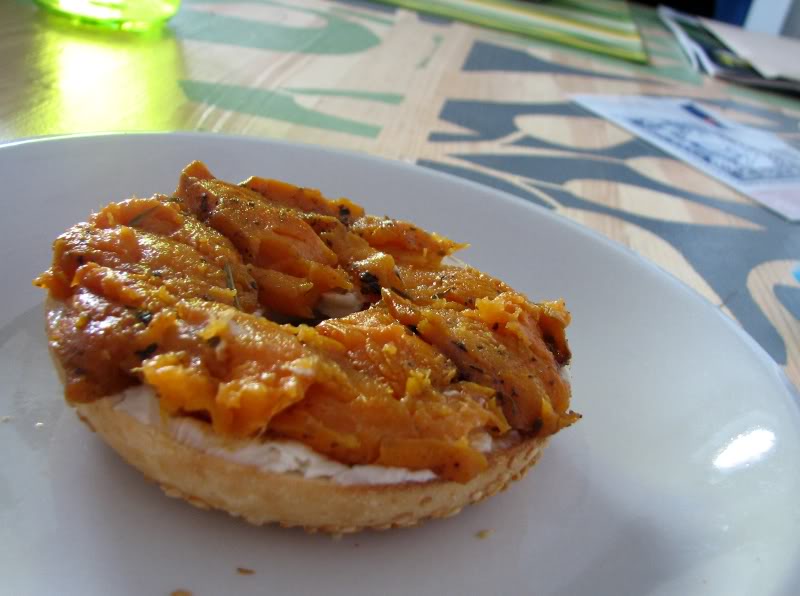 Crescent Rolls were on special the other week so we did Round II of experimenting with stuffing them. Spinach + mozzarella, and green onion + feta were both OK, but Clodhoppers were terrible (they turned rock hard!!).
The best ones by far were: green onion + sliver of Laughing Cow + bit of chilli garlic sauce. SO GOOD!