Yesterday was really fun! I had such good luck and things seemed to just keep working out!
I had a relaxed morning (although we got woken up by noisy birds, grrrr) and then I went to the Pacific Centre to try and find a decent bathing suit. No more online shopping for me. I couldn't find anything at first but then at the last minute I did. Good ol' H&M. I love you H&M.
Then I headed through extreme hockey craziness downtown to meet up for an ultra Canadian girls night. Granville Street was already packed at 4:00PM. We met up at La Belle Patate for delicious poutine, and since it wasn't too crowded and they had a TV and cheap drinks we stayed and watched the hockey game there.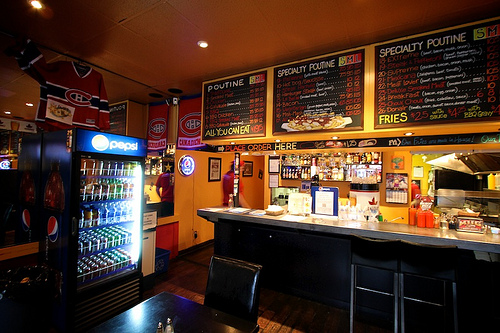 Burrows scored the first goal. I always say that Burrows is going to score the first goal. Then Boston scored twice and I started to worry that things were going to go very bad for the Canucks. Then a Sedin tied the game and the game went into OVERTIME! Overtime is SO stressful, but this was THE BEST OVERTIME EVER cuz it only lasted 11 seconds before BURROWS scored and won the game!! OMG we were so excited! Everyone was screaming and high fiving, it was awesome. I believe it was all due to the new Burrows t-shirt that Scott bought me on Friday. Lucky t-shirt! I am not going to wash it.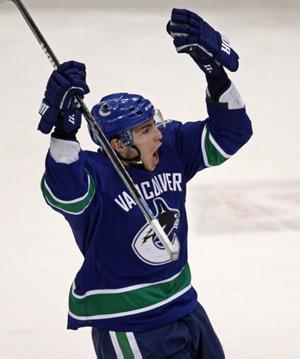 After the game we chilled at Tanie's house for a bit and then I headed over to meet Scott at Brian's house. The boys were very silly and I won my first ever game of Wits and Wagers. Brian got a new deck of questions and instead of them all being about 1900-1930 American history they are about things like swimming pools and Rubik's cubes and I was getting question after question right.
People were still honking and screaming FOUR HOURS AFTER THE GAME WAS OVER! It is intense in Vancouver these days. So much fun.
Oh and I also got 8 out of 8 footy tips right this weekend. I should have bet on my sports predictions this week, jeeze!!
Anyway wow it's nearly lunchtime already and I still haven't got up. Time to study some physics. Oh I'm planning on calling BCIT tomorrow to see what's going on since Friday is my deadline for Michener. AHHH! Cross your fingers for me please!!