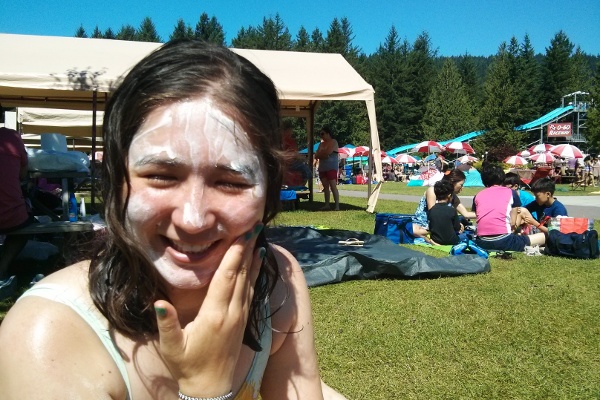 How not to apply sunscreen.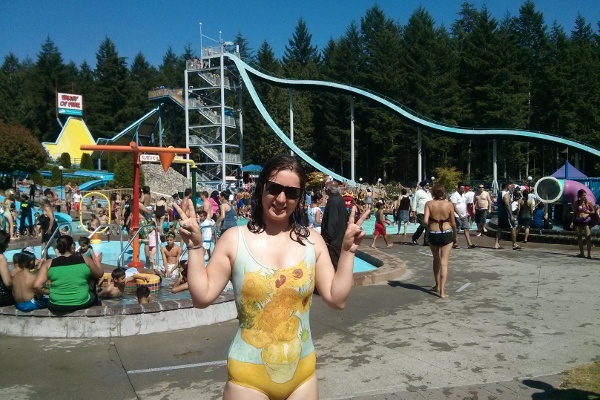 My traditional waterpark picture.
Scott, Rosemarie, Lauren and I went to Cultus Lake Waterpark on the August long weekend. We got there before it opened because we knew it was going to get bonkers. I'm glad we did, because we got to go on back-to-back slides for a good few hours. We had fun but we also had a lot of injuries!!
First slide of the day: one of those big half pipe type slides. VALLEY OF FEAR. Lifeguard tells us to put our chins to our chest right before pushing us down. Rosemarie didn't take this seriously enough and pretty much got whiplash. Awesome start to the day, haha.
Second slide of the day: this weird lazy river/slide hybrid. Scott and I flip off our tube after the first drop. Lifeguards scream at us to walk ourselves further down the slide and then get back in. We go down the rest of the slide backwards and in constant fear that we are going to flip again. My elbow is throbbing from hitting it super hard on the slide in the crash. It continues to hurt for two weeks (it still hurts).
I also got a lot of sunscreen and chlorine in my eyes and the sun was so bright ahhhh it burneddddd. We tried to rinse my eyes out with ice water but I think it made them even drier. Squint squint.
BUT, it was still a pretty fun day. The family slide was scary and fun. I always love those twisty slides that you don't need tubes a lot too. The straight down slide was extreme! The slightly less straight down one was fun too, it gave you a gradual wedgie as opposed to all at once.
It got verrrrrrry busy after lunch (btw they also let you bring your own food in, which is awesome). Like at least 30 minute wait for slides. But luckily by that point we had already pretty much gotten our fill of waterpark.
We decided that we should go jump in Cultus Lake and swim for a bit but we stupidly gave up our waterpark parking spot thinking we would just park at the lake. But the lake was sooooooooooooooooooooooooooooooooooooooooooooooooooooooooooooo busy. There was a line of cars on the highway going towards the lake for literally 10 km when we were leaving. We should have just left the car where it was and walked across the street. DUMB.
We got really delicious ice cream cones in Yarrow and blueberries to console ourselves and then drove back to Vancouver and had a delicious BBQ and played games. FUN TIMES!