Scott and I redeemed our vaneats.ca DD Mau voucher the other night. The package came with two half banh mi sandwiches (one grilled lemongrass chicken, and one crispy roasted pork) and a smoothie (we chose avocado) for $9.50.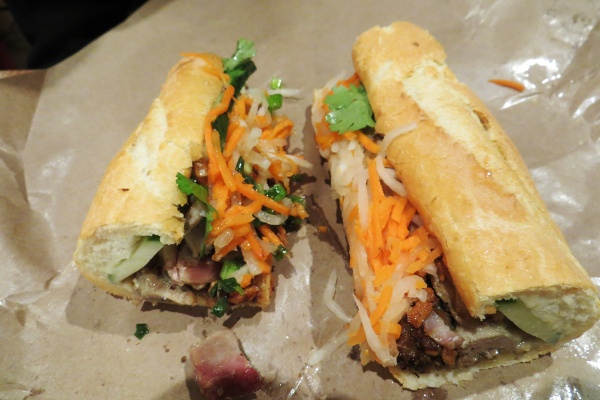 The sandwiches were really really good. All the fresh veggies tasted great and the bread was crunchy on the outside and soft in the middle. The crispy pork one was definitely the best, but the chicken was still good too!
(By the way, if you haven't tried banh mi sandwiches yet, you should! They're Vietnamese. They typically have cucumber, pickled carrots and daikon, mayo, cilantro, some type of meat, and hot sauce on them. DELICIOUS).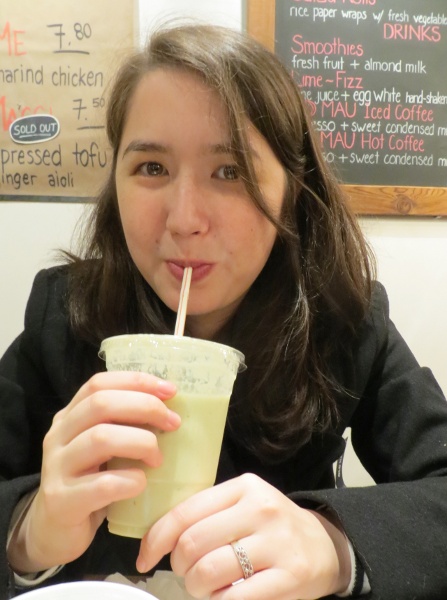 The smoothie was good also. It was made with avocado and almond milk. The avocado taste wasn't super strong. I liked it much better than the time Scott and I tried to make avocado smoothies at home.
It was a great meal. The package was enough for two people to split for lunch, or one hungry person for dinner!
I will totally go back to DD Mau sometime. I want to try their BBQ duck banh mi, and I would totally order the crispy pork banh mi again. YUM!