Well my March Break is nearly over and I'm dreading school tomorrow. I have not been feeling very well so that is not helping. I had two naps today!! That never happens! I've also never had allergies before, which I think is what is causing my itchy eyes and mouth, and general malaise. Scott picked me up some Claritin so I've started taking that and hopefully it helps.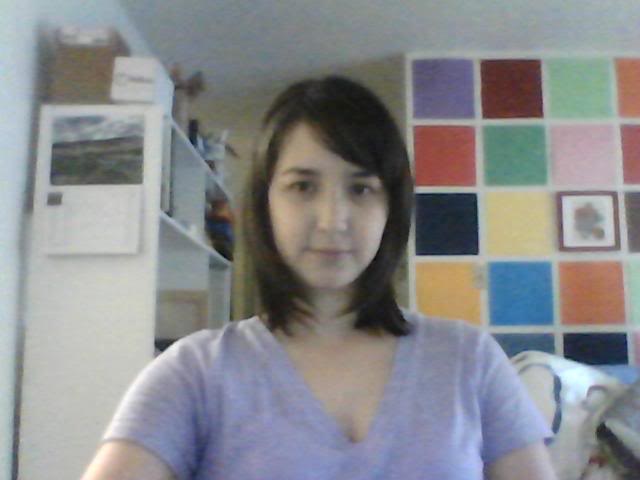 In more positive news, I got my hair cut the other day and I really like it. Sorry that the picture is so blurry… that's an Ubuntu issue, since my webcam looks a lot better when I'm using Windows. Not sure how to fix that.
I did my Transport of Dangerous Goods online training today. I am now certified to handle radioactive stuff. Kind of cool.
We went out for St. Paddy's day yesterday but ended up just hanging out with Brian at his house and then going out for dinner at a non-Irish place because we didn't want to wait in line and also pay cover to get into a crowded pub. It was fun anyway and my chicken burger was tasty.
OH also on Friday we went to the Eatery with Rosemarie and Rob but I'll save talking about that for another entry because the camera is too far away from me right now.