After Beachouse I caught the bus back towards Nadi (~2 hours). I had a week long trip to the Yasawas/Mamanucas planned by myself so that I could get my beach on (and Rosemarie could get her study on back in Suva).
I stayed in Nadi for one night, then got picked up the next morning by the Port Denerau shuttle bus. At Port Denerau I got on the Yasawa Flyer which is a big boat that ferries tourists up and down the Yasawa Islands. It is very organized.
My first stop was at Oarsmans Bay Lodge which takes 5 hours to get to. It was stormy and windy and everyone barfed. The weather was still crappy when we arrived at Oarsmans but I got upgraded from a dorm bed to my own private beachfront bure with washroom so that cheered me up!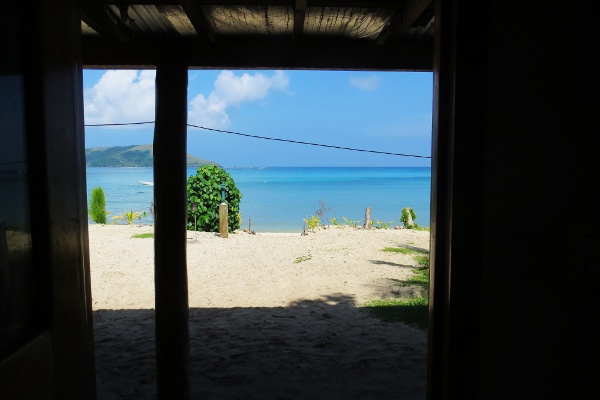 The view from the doorway of my bure the next morning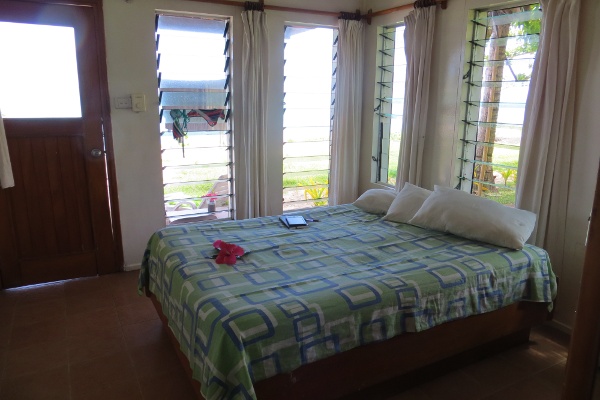 My room for two nights
As you can see, the weather was great by the next morning! I loved Oarsmans Bay. The facilities are a little old but the resort is Fijian owned and run and they were the most lovely hosts ever. They learned all our names and cooked us great food and were really good singers. I loved all the little touches like when the lady cleaned my bure she put fresh flowers on the bed and counters.
While this place is a little pricey for backpackers I think it is worth it, especially because it seems like they are actually pretty generous on the free upgrades (Rosemarie also got upgraded when she stayed there some months ago, and so did all the other people that arrived at the same time as me). I loved falling asleep to the sound of waves gently crashing on the beach, and waking up and only walking 10 meters for my first swim of the day. And it felt like a home.
The only thing is that you have to be a little open-minded to stay there because some things are maybe not quite up to Western standards, and also you don't get any choices for your meals.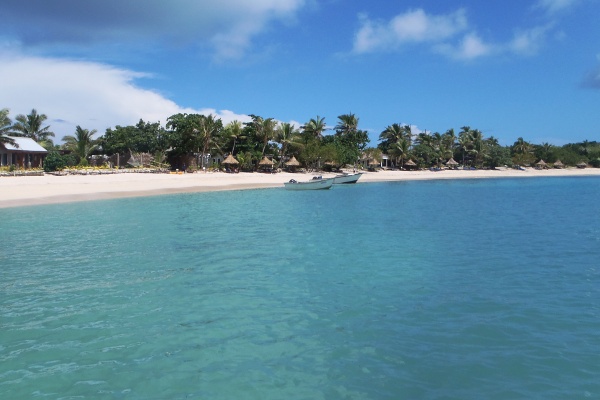 They have activities you can do during the day like snorkelling trips and cave trips and cheap massages. The snorkelling there was REALLY GREAT. Plus oh my god the beach and the water there is so beautiful. And the complimentary hot breakfasts were really nice.
There were only about 12 to 18 people staying at Oarsmans on the days I was there. The small group was nice and cozy but it also sucked because 90% of them were from Norway and they spoke in Norweigan the entire time they were there. So a lot of the communal meal times I just sat there and ate and spoke to no one. Lame.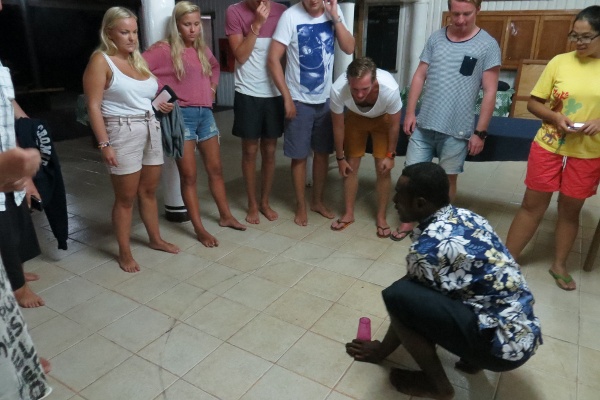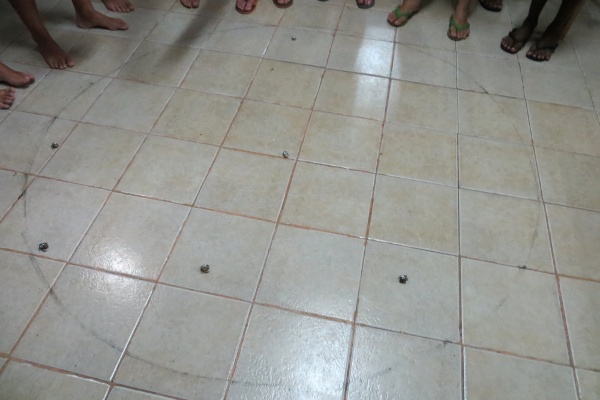 We had a crab race. :D My crab made it to the second round, but then it just stayed in the centre and walked around in a circle so unfortunately I did not win a free beer. :P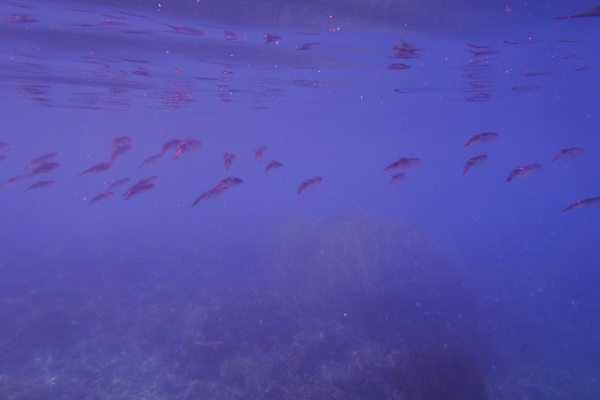 Check out what I saw while snorkelling off the beach! Can you tell what they are?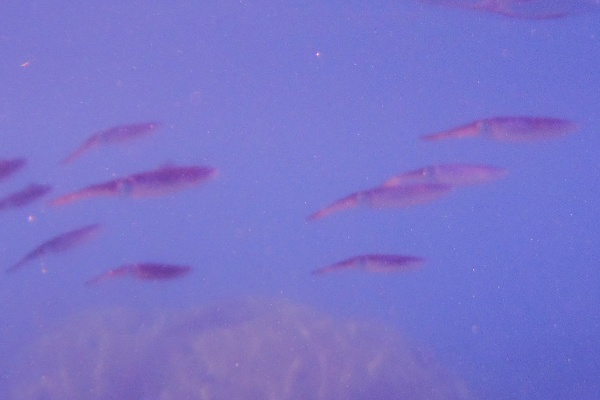 SQUID!! This was so cool, I have never seen squid in the wild before. And apparently you don't usually see so many of them at a time!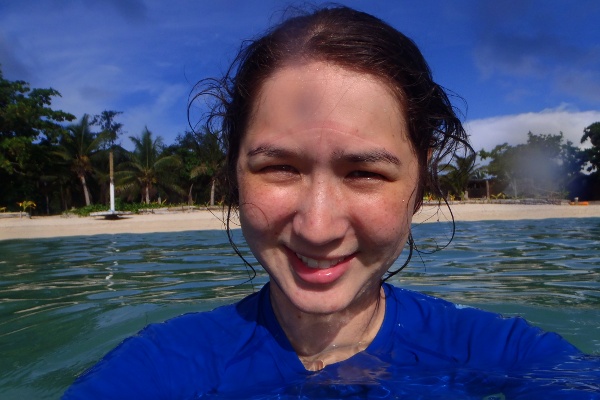 A satisfied snorkel snob
I rated the snorkelling there 9 out of 10.
After two nights at Oarsmans I caught the Flyer again and got off at Octopus Resort. Octopus was kind of the opposite of Oarsmans. While Oarsmans is a little run down and Fijian owned, Octopus is really snazzy looking and Australian owned.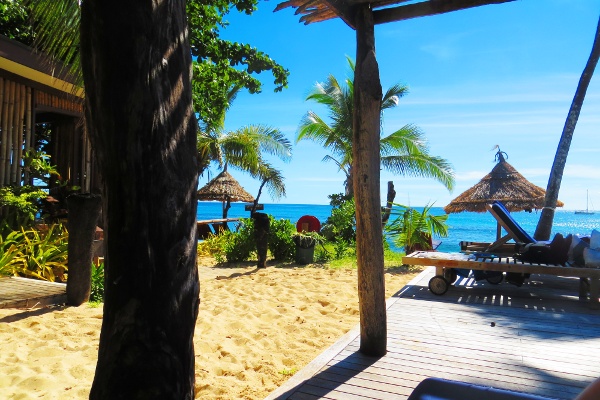 While the facilities were definitely very nice and the food was amazing, it was not my favourite place because everything seemed kind of fake. I felt more like I was in Australia instead of Fiji. If you don't care about getting to know Fiji and just want to have a beautiful relaxing tasty holiday then Octopus would be a great choice though. Even the dorms were lovely with single beds (not bunk beds) with individual side tables with reading lamps. Plus 24/7 air-conditioning!

They had tons of activities to do during the day but I didn't really do any. I'm not sure exactly why but the entire time I was kind of put-off by the resort. I did get a nice massage one day though.
Oh one other bad thing about Octopus is that the beach is almost un-swimmable. The waves were too big and rough and it was not fun trying to swim there at all. Plus there were lots of loose rocks on the bottom so you couldn't even play in the waves without rocks hurling against your ankles. They had a pool that you could swim in instead though but you can't snorkel in a pool!! :D
The food there was definitely a highlight though. You could get custom omelettes at breakfast, a choice from about 10 different things for lunch, and a beautiful three course dinner every night.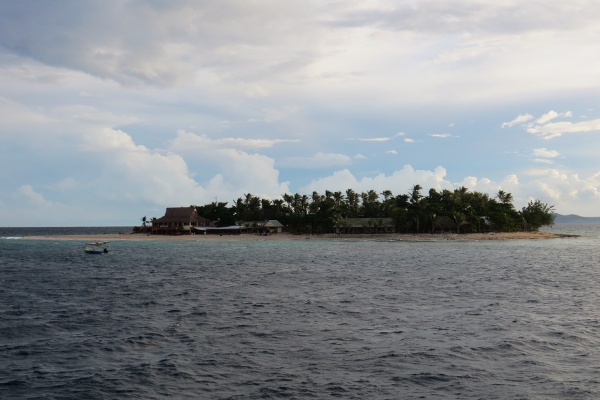 Guess how many people can stay on beachcomber island at once
After two nights at Octopus I caught the Flyer again to my last stop, Beachcomber Island. Beachcomber is known as "the party island". I probably should have picked somewhere else to stay because I was really not interested in getting DRONK by myself, but I wanted the "tiny island experience" and Bounty Island was closed (because of cyclone damage) and South Sea Island sounded terrible.
The island really is tiny. It took me 10 minutes to walk all the way around, on the sand! But the dorm was one giant building with 84 beds in it!! EIGHTY FOUR!! It definitely wasn't full when I was there (my whole trip was in off-peak) but still!! I can't believe I managed to fall asleep when the lights were all on and the music was still playing and people were going in and out so much. Thank god that island didn't have any mosquitoes.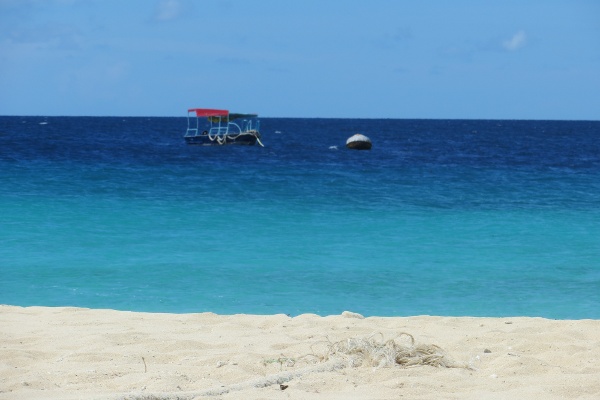 Beachcomber Island is STUNNING when the sun is out. The water there was the clearest water I have ever seen. I've included a few more pictures of Beachcomber in the gallery below. The snorkelling was decent and they had a few free activities every day.
But at night all there is to do is drink and dance in the beach club. Not my scene. It would be a lot of fun to go there with a big group of friends though, I think. When I was there there was a big group of 20 Australians who were all there celebrating this one guys 30th birthday. Now THEY seemed like they were having an awesome time. They did beer bongs with a SNORKEL. HAHAHAHA.
Anyway after surviving one night on Beachcomber my Yasawa trip came to a close.
My final impressions of the Yasawas were great. It is sooooo beautiful there and there are some awesome resorts for every sort of traveller. I want to go back there with Scott some day and we could stay at Oarsmans again plus maybe try out a couple other new resorts as well! There are pros and cons for each resort depending on what your interests are and it's kind of fun to read about them and pick ones for your trip.
I caught the Flyer back to Nadi and stayed one night in smelly Smugglers Hostel. The next morning I started my trek to the North East part of the mainland to go meet up with Rosemarie and her friends!