I caught a local bus from Nadi to Lautoka (1 hr) then another bus from Lautoka to Ellington Wharf (3 hr). It was a beautiful drive, the north part of Viti Levu is really lush and green. I was really stressed out about missing the place where I was supposed to get off because there were no signs and in Fiji if you want to get off the bus you just press the button on the ceiling and the driver immediately stops to let you off. BUT, the people were friendlier than I found in Suva or Nadi (maybe because they are not drowned in tourists all the time) and they helped me get to the right place. Whew!
Then I took a taxi to the pier and then a guy picked me up in a motor boat to bring me to Safari Lodge on Nananu-i-Ra island where Rosemarie and her friends Evan, Liz and Christine were. The four of them were doing their diving certificates and I came along for more snorkelling.
The water at Nananu-i-Ra was SO HOT. That afternoon when I got there I was super overheated from my travels so I wanted to swim to cool down. Rose and I waded into the water. IT WAS SO HOT. Like seriously it was hotter than the water you would put in your bath. You could cook noodles in there!!! So we grabbed the kayak and paddled out a fair way and jumped in again. IT WAS STILL SO HOT!! The only cool water was down at my ankle level!! It was insane!!
The water was also so clear you could see all the coral and the fish swimming around FROM OUTSIDE THE WATER. Incredible.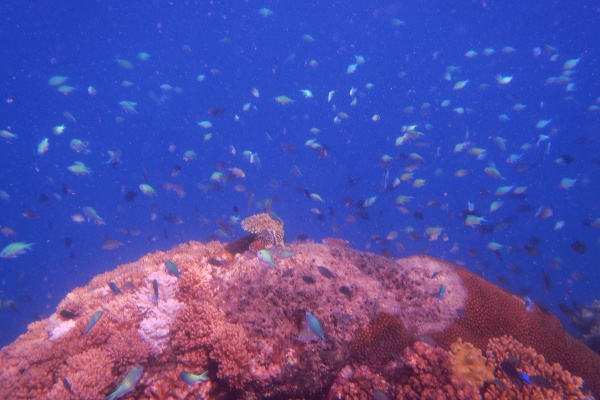 Incredible snorkelling at Nananu-I-Ra
As you might imagine, the snorkelling was fantastic. Not many people come to this area too so the coral was in fantastic condition and the fish were plentiful. The only thing is that there weren't really any BIG fish. I gave this place a 9.5 out of 10.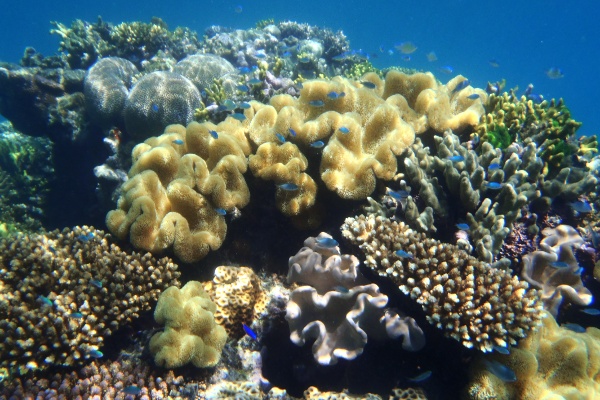 Like OMG it was so good. Maybe the best snorkelling I've ever done? (West coast of Australia is a serious competitor though.)
Rose and her friends really really loved their diving courses as well. It was perma-grins all around the whole time.
We were the only people staying at Safari Lodge so we got the whole 8-bed dorm area to ourselves complete with big clean kitchen and dining area and patio. So great.
One night there was a huuuuuge lighting storm. We turned out all the lights and sat on the countertops and watched the storm over the ocean. So cool.
Rose and I stayed an extra night to try and see the bioluminescence but unfortunately the moon was too bright and we couldn't see anything. We did have a fun adventure hiking to the other side of the island barefoot in the dark though! :)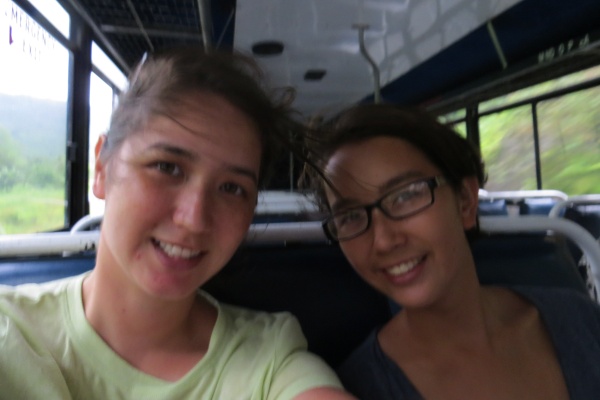 Sister time on the bus back to Suva
We accidentally took the bus that stops every 2 seconds on the way back to Suva. It was tedious but at least the bus wasn't crowded at all so maybe it was better. (Fiji really crams people into their buses, 2 on one side of the aisle, 3 on the other side!) This bus ride completed my lap around Viti Levu, which is pretty cool! Rosemarie hasn't even done that yet!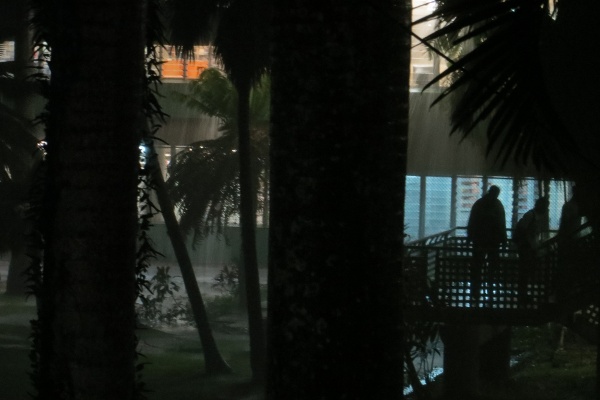 We arrived back in Suva in the afternoon. I went to another one of Rose's marine biology lectures. We learned about the intertidal zone. Then it was POURING RAIN. There was so much rain coming down there was a legit waterfall coming off the roof of the other building there. I can't even understand how there could be that quantity of water IN THE SKY. It was intense.
We braved the rain and went out for Indian food and a movie. Fun night.
The next day I caught the bus again towards Tubakula Resort on the Coral Coast. I had a couple days to kill before family reunion time and I didn't really need to stay in Suva again. Tubakula Resort was nice but I was the only person staying there!! SO LONER-LY. But I got a little house all to myself (pictures in the gallery below). It was relaxing. Then the power went out for 6 hours and I had nothing to do so I just sat around in the dark by myself. FUN TIMES!
While staying at Tubakula I caught the local bus to the sand dunes. The sand dunes are actually part of Fiji's only National Park. Since I was on my own the guy in the front office got a tour guide to go with me. The tour guide was awesome and told me lots of info and it was really nice chatting with him. If you ever go to the sand dunes you should ask for a tour guide to go with you. It's free since the park is subsidized by the government. You should also wear shoes, not sandals, because if you wear sandals you can't go on the long hike, only the short or medium hike. We did the medium hike and it was nice and also extremely hot and sweaty. Anyway the sand dunes were cool but I didn't take any pictures, oops. The tour guide walked me out to the highway and helped me catch a $1 return car to the city. Thanks dude!
After the sand dunes I went to the Eco Park. It was a little expensive for Fiji standards but it was really cool! I would recommend it if you are into iguanas or birds, or if you haven't already been to a bird exhibit before. Or if you just like animals! It was neat and they even let you hold the iguanas and stuff.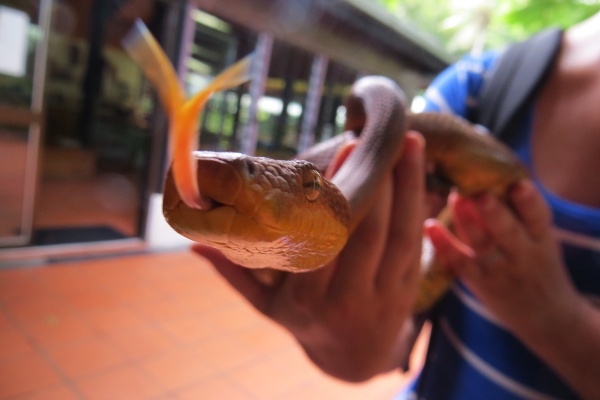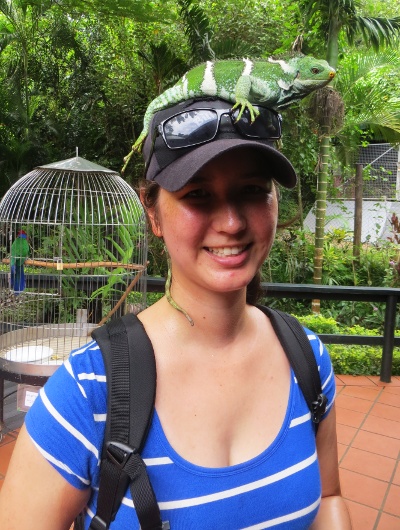 Apparently these iguanas are worth $10,000+ each! And a lot of types of iguanas are ONLY found in Fiji. This Eco Park is trying to save iguanas from extinction by breeding some extras in captivity and then in 2015 they will release them back on to the island they found their parents on.
There were lots more iguanas and birds to see and information about the plants as well. You can see more pics in the gallery below.
The next day Rosemarie and I did a bus rendezvous. She was coming from Suva and I jumped on in Sigatoka so we could go together towards Robinson Crusoe Island. This was where we were meeting dad and Kate!!
Rose and I went a day early because she didn't have any school stuff that Friday, and it takes quite a while to get to the island (lots of steps). We were really lucky with the timing of the buses/boats but unfortunately it was very cold and rainy the whole day we were there.

WHEN ARE THEY GETTING HERE????
There wasn't a lot to do when it was so cold and rainy so Rose and I spent a lot of time staring at each other and counting down the time until dad and Kate would arrive. That night we went to bed realllly early because we wanted to sleep so the morning would come faster.
BTW that dorm was probably the worst dorm I have ever stayed in. My mattress was probably 200 years old and soooooooooooooooooo sunken in the middle. When I lay on it my hips were well below my shoulders and knees. I had to scoot down and try to bridge the canyon with my back and sleep with my legs dangling off the end of the bed. Yowza it was terrible. Plus there was a lightbulb that was going on and off every 10 minutes. AHH!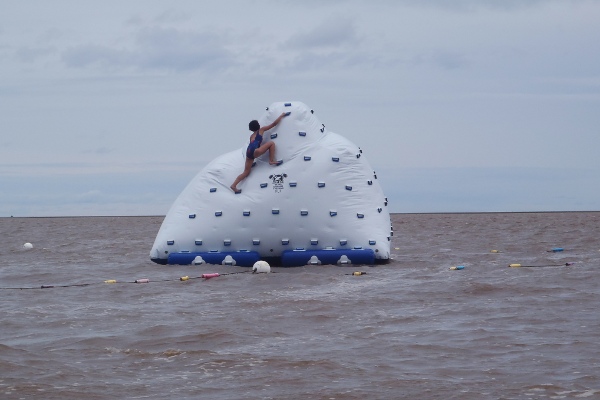 Rosemarie ice climbing in Fiji
The next morning Rose snuck onto the bouncy inflatable toys. She could not resist that climbing opportunity.
Finally dad and Kate arrived!!!!! We met their boat on the beach. It was nice.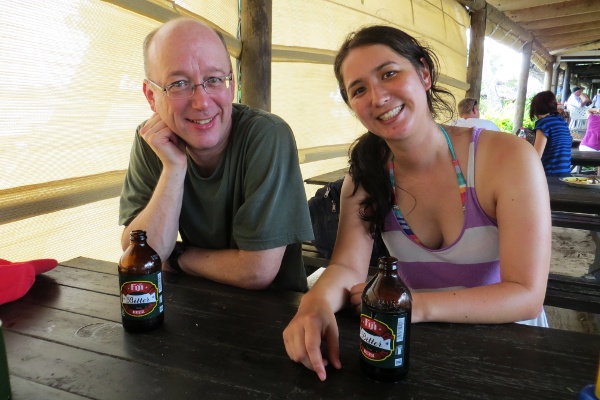 DAD'S HERE!!!!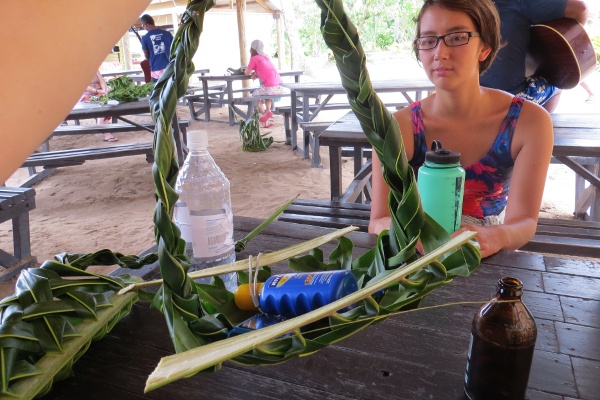 It was still cold and grey that day. So we did all the activities that they had planned. Some were SOOOO CHEESY. But basket making was cool!! I think Rose is jealous of my basket.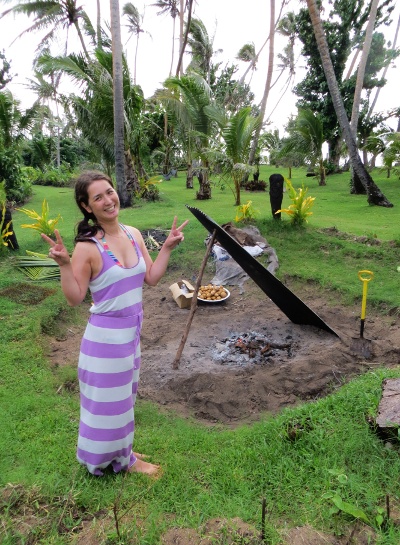 I finally got to have lovo. Scott had looked up some information about Fiji a long time ago and he always bugs Rose about whether she is eating lovo at any point of time. It's a traditional Fijian way of cooking where you make hot coals in a hole and then put food on it and then cover it all up so it can cook like an oven. They were going to put potatoes in this lovo.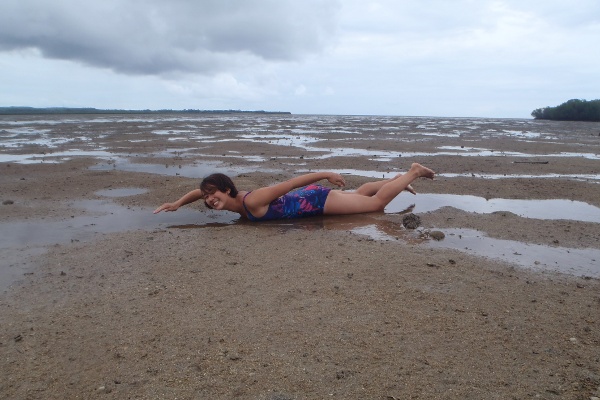 The wind was bringing all the branches onto the main beach so Rose and I thought the swimming on the other side of the island might be better?? Ummm… no it was not.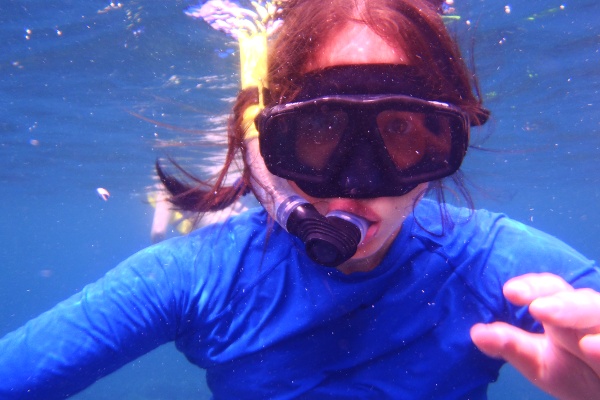 The next day was better. We finally got in the water. All four of us kayaked around the island in the morning (took about 1 hr) and Dad and Rose and I did a snorkel trip before lunch. It wasn't very good though to be honest. We are quite the snorkel snobs though.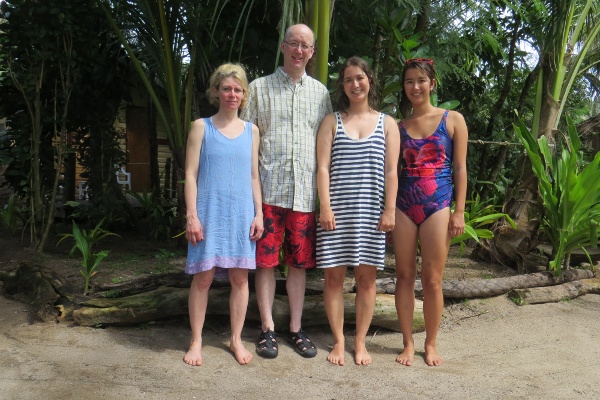 I left for the airport that afternoon. Our family reunion was only about 30 hours long but at least I got to see them!! I hadn't seen dad in 14 months before that! Dang Canada and it's hugeness!! Anyway it was fun and we talked a lot and the bure that we all stayed in was a major upgrade from the saggy bed dorms and bucket showers.
Dad and Kate (and Rose, duh) are still in Fiji at the moment, and then Scott and I will see them again for a few more hours in Vancouver on their way home. YAY!