I got driven out to Abbotsford yesterday with a bunch of other Vancouver bloggers to check out the Fraser Valley Food Show. It was smaller than Eat! Vancouver, but in some ways that is a good thing. It wasn't nearly as crowded and you get way more of a chance to talk with the vendors and meet people. It was cool to learn a little more from the companies that are based in the surrounding areas, where I don't often get out to.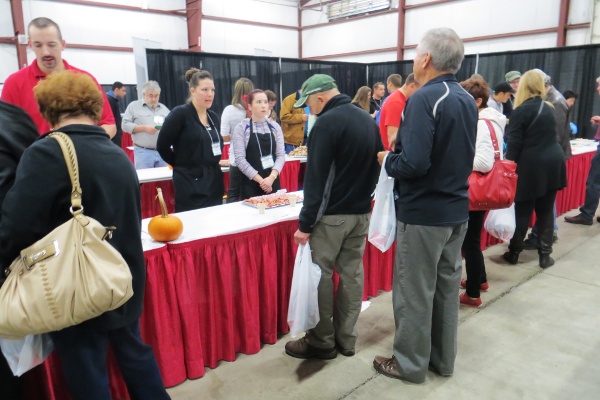 One of the highlights was the sausage making competition. For $2 you could try a dozen different types of sausages, and get a little glass of Erdinger.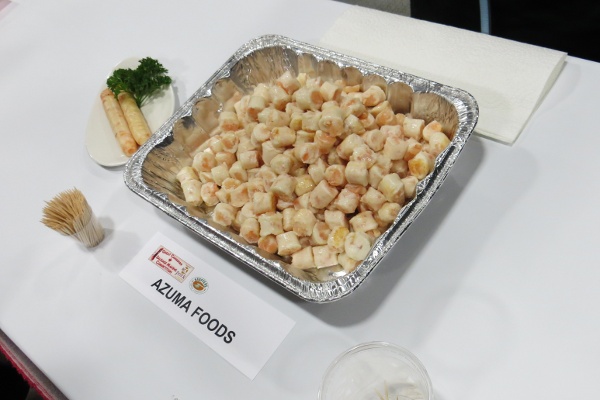 Most of the sausages were pork based, but this one was a shrimp sausage. I thought it tasted ok, but it was pretty weird. The people around me didn't seem to like it very much.
I voted for the Altmaerker sausage because it had a nice strong flavour. They're a German shop in Delta. I also really enjoyed the Beast & Brine sausage, from Surrey. The two guys really sold me on their shop when they told me about their carefully curated selection of cheeses. I'll have to check it out when we get a car.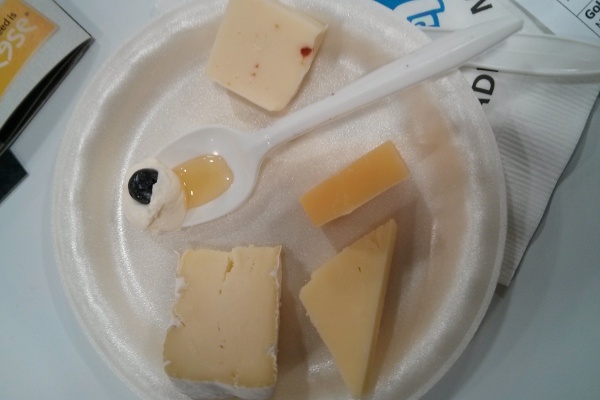 Of course I attended a cheese seminar from the Dairy Farmers of Canada. We tried 8 different types and it was great, as usual. I like that they give great big samples of the cheese so you can really get a good taste.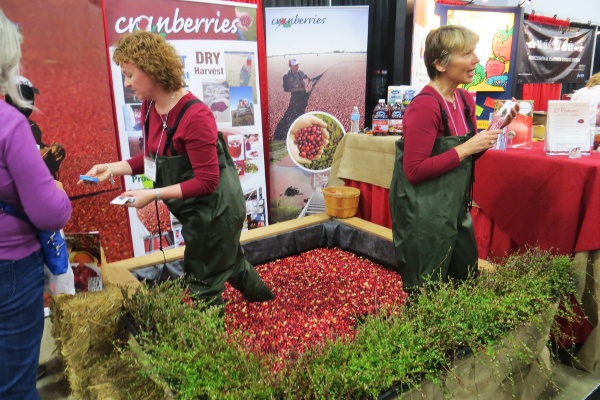 The BC Cranberry people had a creative exhibit booth. I learned all about cranberry harvesting… something that I knew nothing about before yesterday. Apparently the cranberries grow on little bushes like in the picture, then when they are ready the farmers flood the whole field with water. Then they push a rolling cranberry knocker thingy through the field that removes the cranberries from the bush. Because cranberries have four air pockets on the inside (kind of like the hollow parts in an apple) the cranberries float up to the surface of the water. Then they can easily scoop up all the cranberries with a rope pull thingy. Pretty cool.
There was a big gluten free area but I didn't spend much time there because it was REALLY CROWDED. I think it's great that there are so many more products for people who can't have gluten and it definitely seems like it's getting people excited!
I had a lovely mango lemonade from An Indian Affair Restaurant (Langley) and an open faced Montreal smoked meat sandwich with mustard from Dunn's Famous BC (Vancouver). PS I really love mustard these days.
And I had a very random selection of wine, beer and liquor samples in the alcohol tasting area. I don't have a lot to say about that because I was paying more attention to getting to know the other bloggers than what I was drinking, haha. That was a lot of fun, although it made me realize I have a lot of work to do on this blog.