Last week I was lucky enough to win another vaneats.ca food package called Maurya's Spice. Maurya's is a fancy Indian restaurant on West Broadway. We decided to redeem my prize last night.
So we get seated, take a quick look at the menu for drinks, see that none of the drinks have prices listed for them, and they don't seem to have anything non-alcoholic (I have really not been in an alcohol-drinking mood for weeks now). I thought it was pretty weird that they didn't even have mango lassi. Isn't that pretty much an Indian restaurant classic!?! Anyway because the place looked so fancy and the drink menu was frightening we just chose to have water.
When the waiter comes over to take our orders we ask for the vaneats package and he tells us first that YOU ARE NOT ALLOWED TO SHARE. ONLY ONE PERSON CAN HAVE IT. THE OTHER PERSON HAS TO ORDER SOMETHING TOO. This was disappointing because both of the other vaneats packages we have gotten have been super huge and definitely good for two people to share. Plus Maurya's regular dishes on the menu were expensive for me (~$16). The way he told us that we were not allowed to share was pretty harsh, and weird.
Finally we decide to get saag chicken for Scott and the vaneats package for me. Then the waiter makes a huge stink saying we can't redeem the package if we don't have the printed out voucher. Because I won mine in a contest I didn't have a voucher, they just emailed me the code. He was all YOU CAN'T REDEEM THE PACKAGE LIKE THAT, YOU NEED THE PAPER WITH YOUR NAME ON IT and I was all UMMM YES I CAN REDEEM IT LIKE THIS? I'VE DONE IT BEFORE!! I CAN TELL YOU MY NAME IF YOU NEED IT! and then he left for a while to make a phone call and then finally came back 5 minutes later saying OK. YOU CAN HAVE IT. :/
Once the food arrived everything was fine, but it sure was an annoying and awkward start to our dining experience.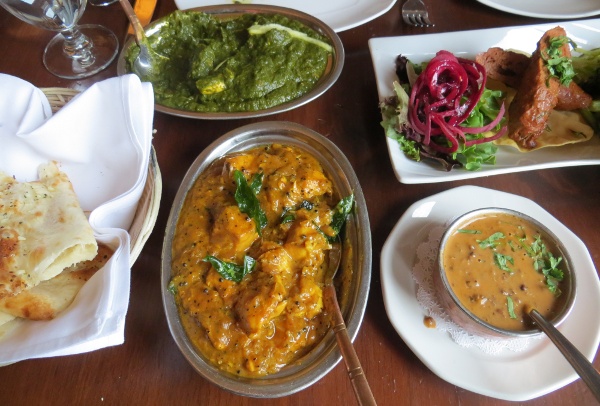 Scott's saag chicken is the green dish at the top, then clockwise from there we have a small salad with a vinaigrette that we couldn't figure out if it was strawberry or raspberry, Seekh lamb kabob, some boring steamed veggies slightly out of the picture, a delicious daal made from black lentils, chicken chettinad, and garlic naan. The chicken chettinad was nice but a little too sweet for me. I preferred the garlic-y savoury saag chicken.
Throughout the whole meal we kept joking about not being allowed to share. Like the waiter was going to come over and yell at us if he saw Scott eating a bit of my daal or something, haha. Oh and nothing comes with rice and who knows how much extra that would cost!
Anyway of course we didn't finish everything. We brought home enough of the two chicken dishes to have another meal at home. The vaneats package totally would have been enough food for both of us.