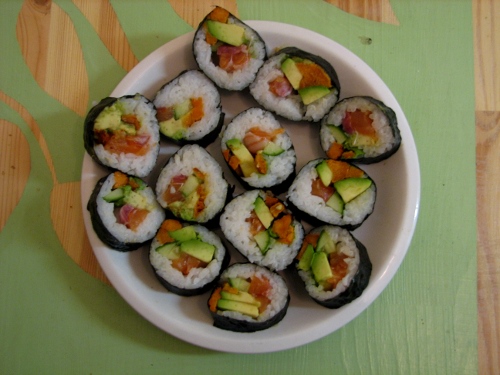 I made sushi last week. My best ever!! Mine had salmon, avocado, cucumber and yam. OM NOM NOM. We bought a mondo bag of sushi rice so I guess there will be a lot more homemade sushi in the near future. :)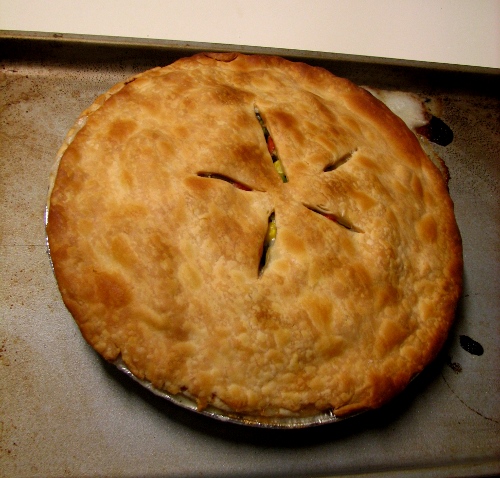 Rosemarie came over yesterday. I made a chicken pot pie while she did some school work. I used all fresh veggies, but I did not make the crust since we don't have a food processor to make dough. Anyway I used a Pillsbury crust that came rolled up (not frozen), and it was quite nice. I followed this recipe, more or less.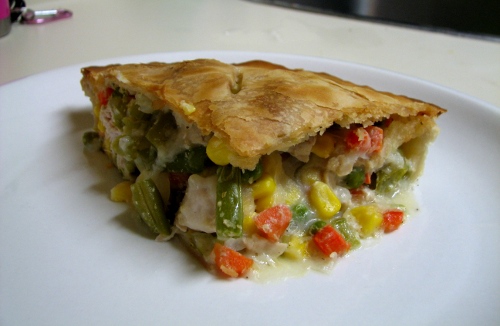 I also made two mini ones to freeze for later. :D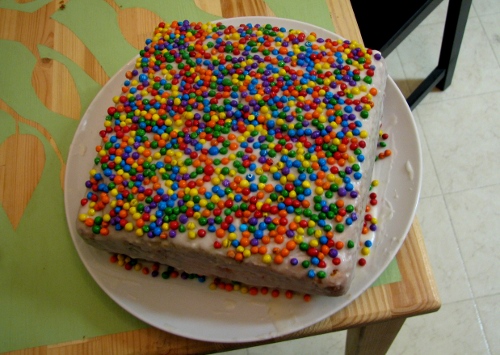 I also made a rainbow cake last week. Cake mixes were on sale at No Frills for 99 cents so I grabbed a box of French Vanilla. I dyed the batter all different colours in separate bowls and then just drizzled them randomly into the pan. I made my own icing but didn't have enough icing sugar (HOLY COW icing uses A LOT of sugar!!!) so it was a bit runny…. but it kinda soaked into the cake and that was actually delicious. I topped the cake with rainbow chocolate chips because I am 5.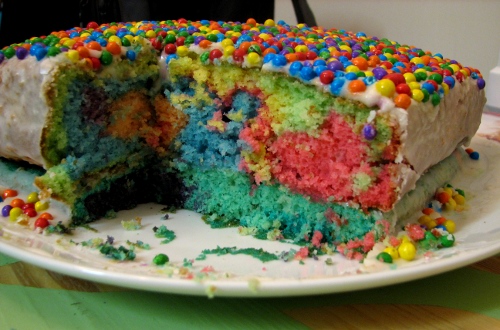 Mmmmmm cake.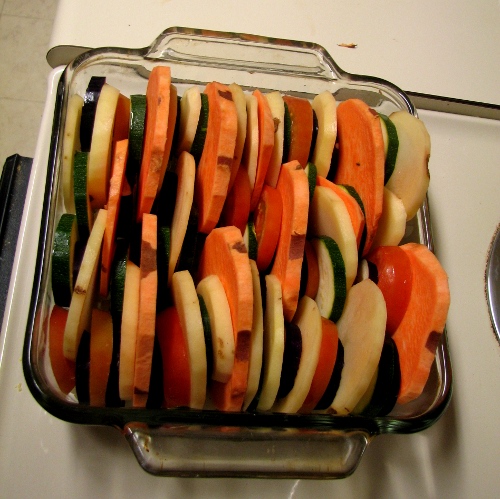 I also tried Budget Bytes Summer Vegetable Tian. In the winter. Yep. It was tasty, like of all of her recipes. I think her blog might be my favourite food blog of them all! It's all about making nice food on a budget (duh). Anyway I put slices of potato, sweet potato, tomato, zucchini, and eggplant, with lots of herbs, and a little cheese on top.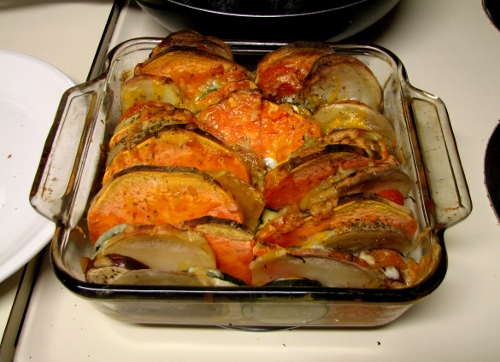 Other food success stories without pictures:
Mirza Ghasemi, a Persian eggplant dish with TONS O' GARLIC. Verrrry tasty, just don't breathe on anyone after. We ate it with rice. I really liked this dish, the flavour was different than everything else I cook. I recommend trying this one if you like eggplant a lot like we do.
Jalapeno Popper Quiche, turned out great. Next time I would add a lot more jalapenos.
Savoury Fruit Stuffing. Bit late for this I suppose, but I forgot to post it. This is the stuffing I made at Thanksgiving. It was SO GOOD. OK as usual I changed things: not as much onion as it said, veggie stock powder + rosemary + thyme instead of the herbs it said (didn't have sage), and no orange peel.
Oven-fried onion rings. I had major trouble getting anything to stick on to the onions, but the parts that did were SUPER crunchy and delicious