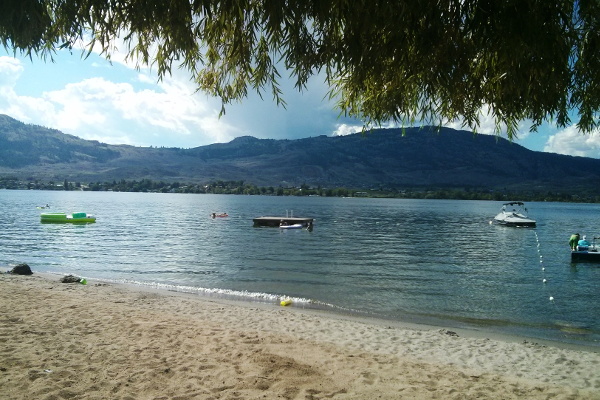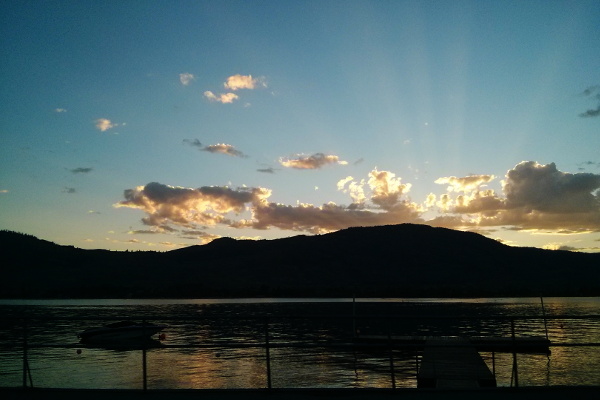 We had such a nice time in Osoyoos last year we decided to rent Julie's trailer for a whole week this summer. Rosemarie, Scott and I spent the whole week relaxing, and Lauren joined us for a few days as well. IT WAS GREAT.
The week started off HOT, but it cools down so much at night I didn't find it uncomfortable. Plus whenever we got hot we just walked across the street and swam.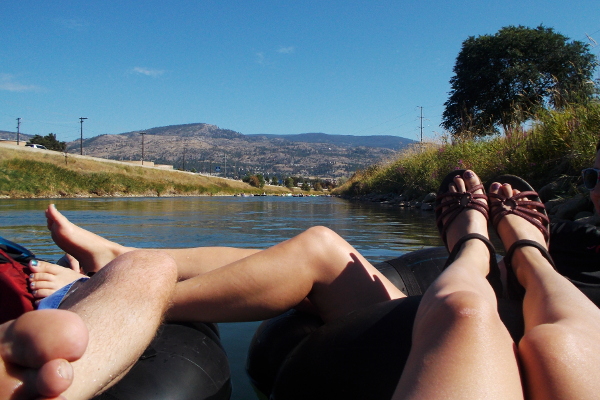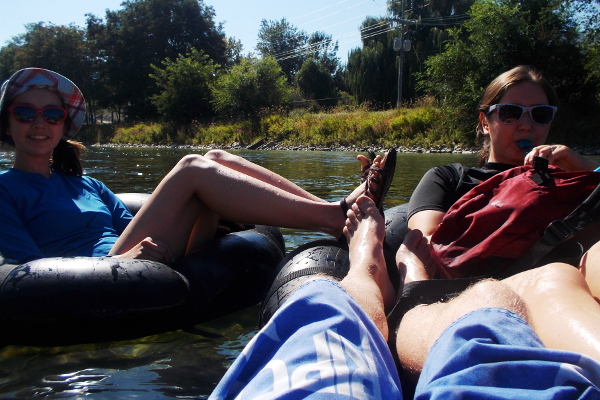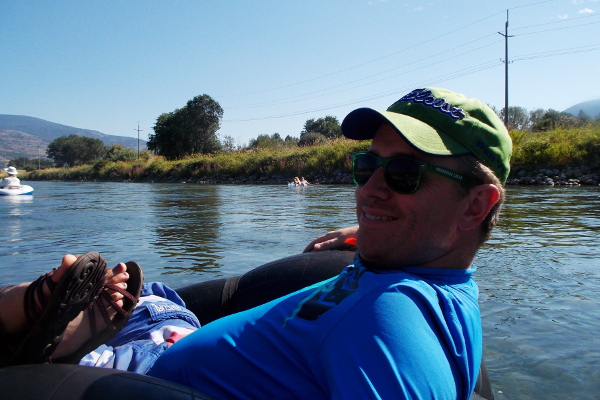 One day we drove up to Penticton to go tubing down a river. The scenery wasn't as nice as Cowichan River tubing, but the current was a lot quicker so it was easier. Plus instead of shivering we were basking in the sun. I even bailed off my tube on purpose at one point! We brought wine in Rosemarie's camel pack, which managed to make a $16 bottle of wine taste like a $3 bottle of wine. BLECH. Wine should be enjoyed from a glass, not a tube.
Now that we've done the river once we know how to do it better next time. First step: acquire a PARTY ISLAND. Second step: park at the bottom of the river and get a taxi to drive you up the river at the beginning. Third step: bring better drinks and snacks.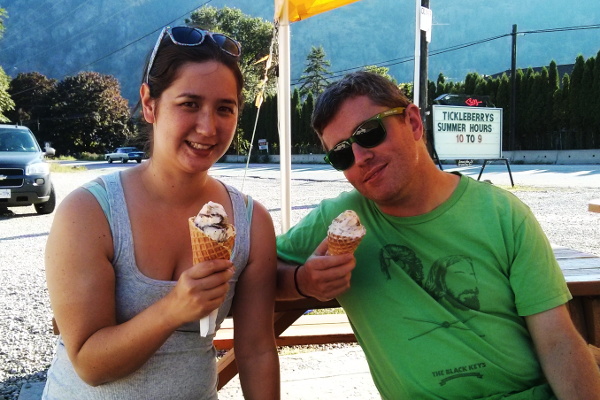 On the way back we stopped at Tickleberry's for ice cream. I asked for a single cone in Nanaimo bar flavour and the guy said "Well our single cones have THREE scoops so you have to pick THREE flavours!". WAT!! That's too much ice cream. So we got child size, which still has two scoops and two flavours. (I had Nanaimo Bar and pralines & cream.) We couldn't even finish our cones. Do they have infant size??
If I went back I would split a waffle bowl with someone else to avoid death by ice cream.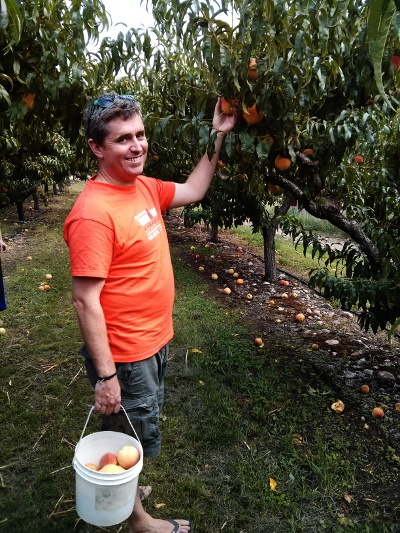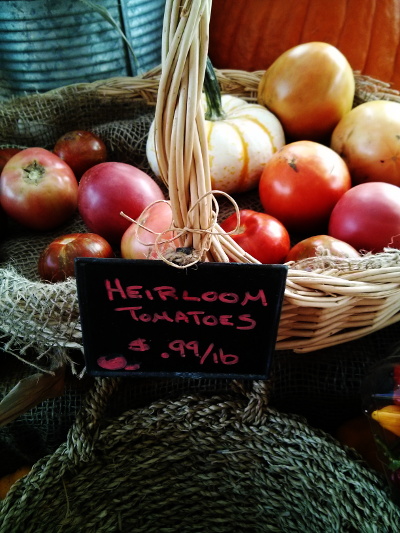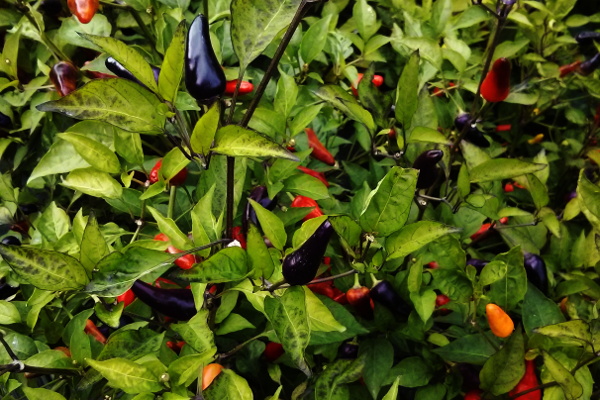 After an afternoon of wine tastings we stopped at a U-Pick farm. We went in thinking we would just pick a few peaches since it's cheaper than buying them. But then we found out they had tons of types of fruits and vegetables!! Most of the vegetables were in this massive overgrown patch. We picked a peaches, nectarines, peppers, and zucchini. Since it was already the end of August there wasn't a whole lot of good stuff left, but it was still awesome. We kept yelling to each other whenever we found something. "JALAPEÑOS!!" And 99 cent/lb heirloom tomatoes?? That's crazy! I bought all of them.
Side note: haven't the tomatoes been amazing this summer? I don't know I can eat winter tomatoes anymore after this incredible summer of cheap and flavourful tomatoes.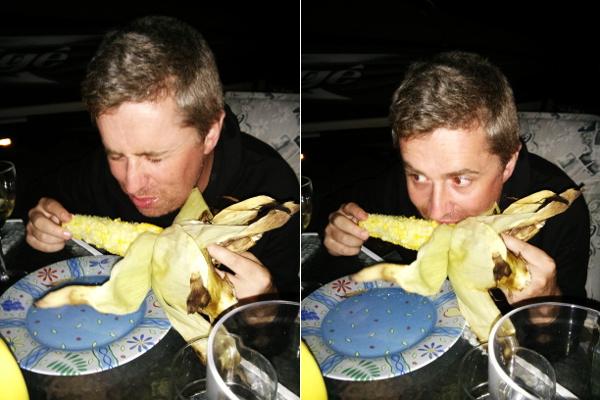 Scott hates corn, but we forced him to eat it several times. But that is corn at its best… fresh cob, tender kernels, covered in butter and salt. Om nom nom. I think he secretly enjoyed it…
We have figured out that you can cook corn on the BBQ (in the husk) anywhere from 5-45 minutes and it comes out the same, FYI.
Other stuff we did in Osoyoos:
tons and tons of games, especially Carcassonne
tons and tons of cross stitch
tons and tons of reading
tons and tons of wine and margaritas
Julie and Steve came up for the last couple days we were there too so we got to hang out with them a bit too. Julie made Osoyoos bellinis and Calvin took Rosemarie and Lauren out on the boat. We had a nice family dinner outside their cabin.
It was so nice to unwind and just hang out. We had very little things to stress about and it was awesome. SO nice after a summer filled with work.