On Wednesday Leslie came to visit us on her way to Korea. It was really great to see her, and I can't wait to hear about her upcoming adventures!! She already has more plans in the next month than I do!!!
We brought Leslie to The Eatery because she is an adventurous sushi eater. :D It's pretty far from our house but it's so fun and tasty! I love that restaurant. It always seems worth the journey.
Now that Scott and I have been there a few times we have a better idea of the good and not-so-good rolls and we ended up with a really really good meal. All the food was awesome.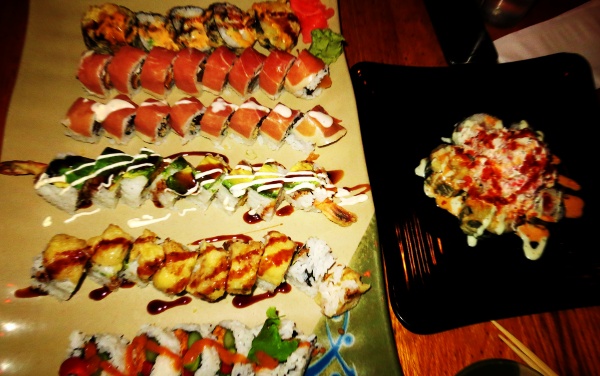 From top to bottom:
Viva Las Vegas: crab, eel, avocado, cream cheese, spicy misonnaise (tempura style)
Italian Stallion: prosciutto, papaya, eel, cream cheese, hot pesto sauce
The Figa Roll: figs, blue cheese sauce, tempura crunch wrapped with prosciutto
Green Hornet: tempura prawns, avocado, mango
Electric Banana: eel, avocado topped with tempura banana
Buddha Roll: tempura yams, red pepper, asparagus and lettuce, with dragon sauce
And the one on the right:
The Volcano: tuna, scallops, salmon and avocado (tempura style) on a lava bed of spicy crab meat
I loved the Figa Roll and the Italian Stallion the most, as usual.
I guess the drinks were the weak part of the meal. The waitress brought Scott the wrong beer, the blender was broken so I couldn't get a sake margarita, and Leslie's snakebite didn't have any grenadine in it. :/
Then we came home and played Ticket To Ride. Yay board games.