June 13th – June 18th, 2016
June 13: Very long bus ride from Bayonne to Paris. I was fine, I just played on my iPad the whole time. But Scott was not feeling very well at all. After barely making it to the AirBnb he went straight to bed. I spent the evening figuring out our travel insurance and finding an English-speaking doctor.
June 14: We spent the whole day bringing Scott to the doctors and tests. I have to say… thank goodness he got sick in France and not in Spain because at least I could speak enough French to figure out all the instructions and stuff. Nothing came back too remarkable so the doctor just said not to have any fat or alcohol to avoid anything else happening until our trip was over. Poor Scott, in France and not allowed to have cheese or wine. :(

A brief stroll through the Louvre property in between appointments.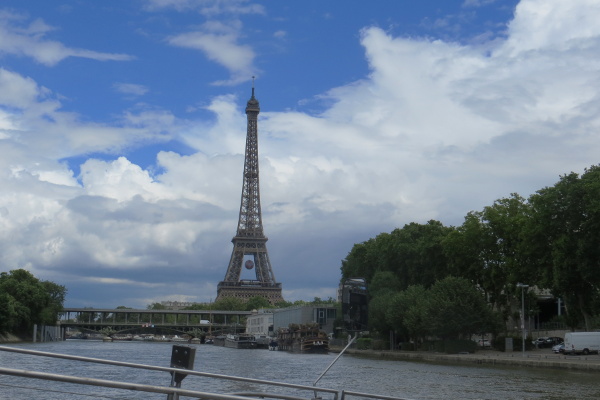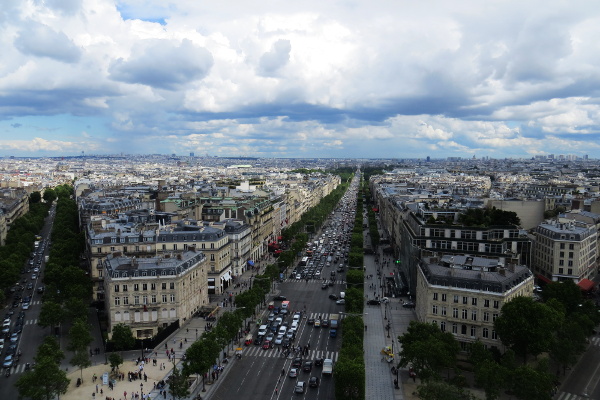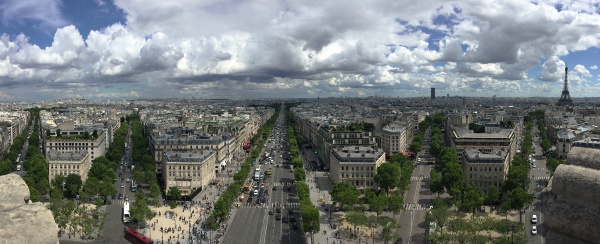 June 15: Scott was already feeling a little better, so we decided to do a bit of walking around the city. What a trooper! We walked along the Seine to the Eiffel Tower, where they had the fan zone for the Euro. There were tons of groups of people everywhere dressed up in their countries colours. (That's a giant soccer ball dangling off the tower.) We did one of those 1 hr river tours, and then walked up to the Arc de Triomph. I wanted to go up the Arc instead of the Eiffel because I wanted to be able to SEE the Eiffel Tower. The view was amazing! You can see everything!! I really liked how the panoramas turned out, flattening all the street spokes coming off the roundabout into a flat picture, it's an interesting perspective.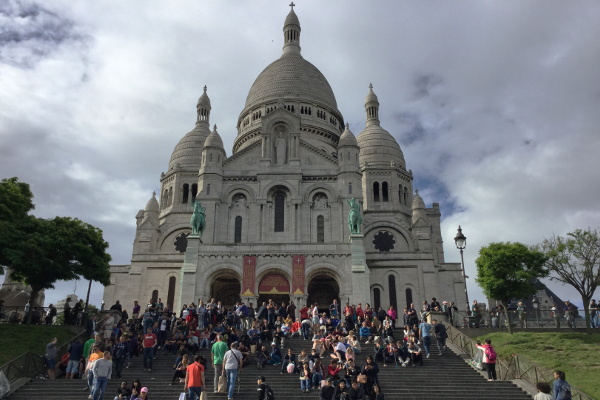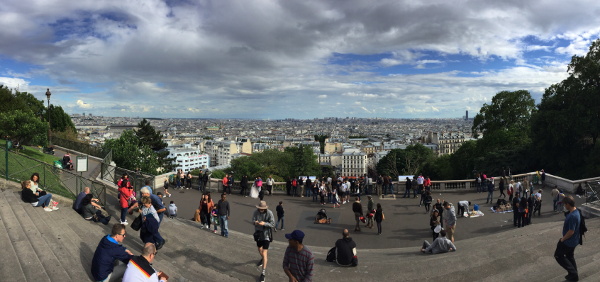 June 16: Perhaps we walked a bit too much the day before, so this day we just stayed near our AirBnb in Montmartre. We took the little tourist train, which was actually great. Lots of info and cool things to look at, and in English!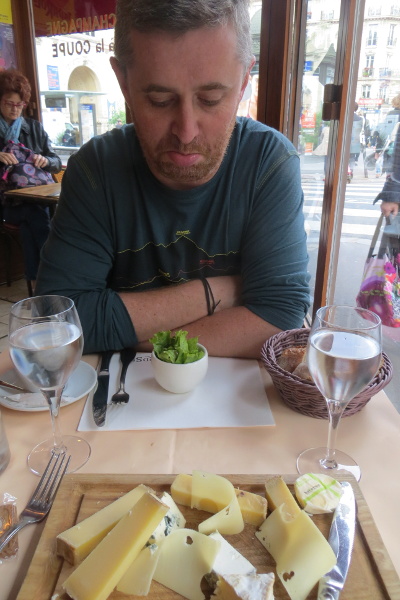 This is MY favourite picture from the trip, I think. Poor Scott.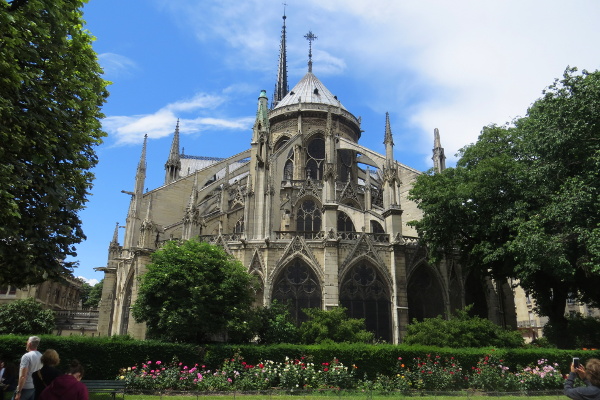 June 17: The night before I googled all the best food places in Paris and arranged them all into a big circuit by bus/metro/walking, also stopping by a few more Paris sights that we hadn't seen yet.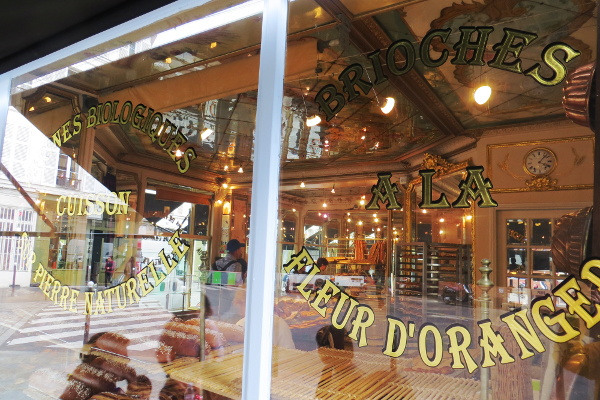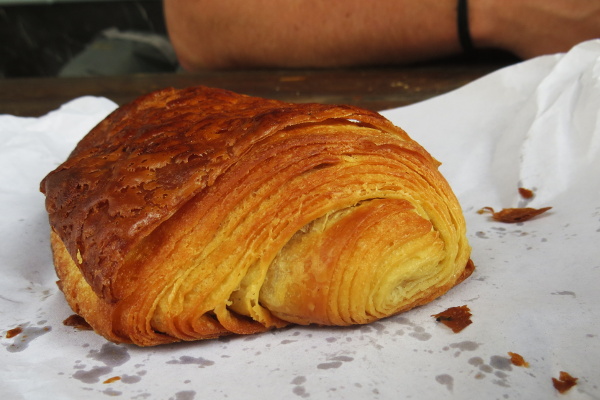 The flakiest butteriest pain au chocolat of my life.
Laduree was doing a pop up shop that sold all white macarons. It was fun trying to figure out the flavours. Mine came with coconut, marshmallow, rose petal, lemon verbena, orange blossom, and tonka. I also got some other macarons from Pierre Hermé: chocolate passion fruit, yogurt lime, yogurt rose lychee raspberry, and passionfruit rhubarb strawberry.
I also got a slice of chocolate log, some chocolate truffle samples, and a really overpriced éclair that had glitter in the icing, for snacks for the next week.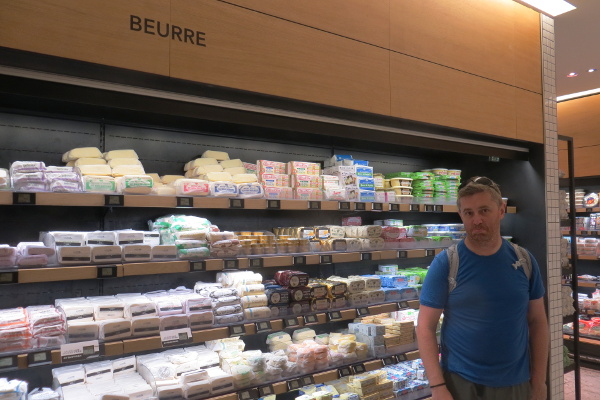 We went to La Grande Épicerie de Paris, which was the fanciest grocery store I have ever seen. It had 1000s of incredible products, like glass jars filled with super thick hot chocolate, every variety of curd, dozens of types of foie gras, so many types of cheese and butter, and everything else you can think of. If only we had infinite money…
I have a lot of regrat for not buying this truffle and grilled hazelnut mustard that came in a super cool geometric jar.
For dinner I had baguette with paté, and a glass of wine in a very traditional brasserie. Great foodie day (for me).
I LOVED Paris. I want to go back so bad, for like… a month. We saw so much cool stuff and we didn't even go inside any of the museums or anything!