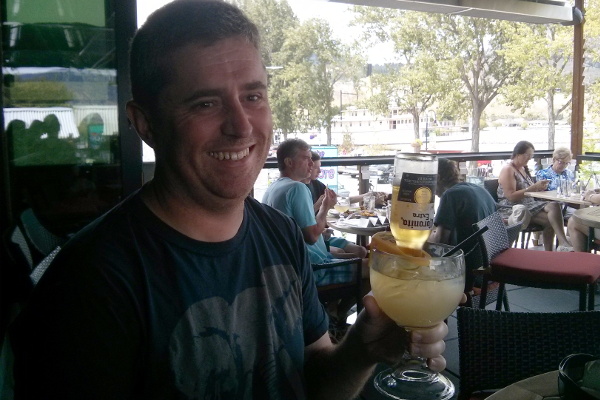 Starting the trip off with a beergarita with Teri and Lindsay while we waited for Braz and Lisanne. I feel like we need a flowchart to explain the group:
Scott –> friends with Braz (aka Marcus) (from Melbourne) –> girlfriend is Lisanne (from Edmonton but lives in Melbourne too) –> friends are Teri and Lindsay (live in Alberta).
The first day we went to a whole bunch of wineries close to Penticton and a tiny distillery that makes gin. There was one chardonnay that tasted like BBQ corn…. ew. We went to Bad Tattoo Brewery for dinner and drinks. The six of us each got a pizza each and then shared so we got to try 6 types (YUM).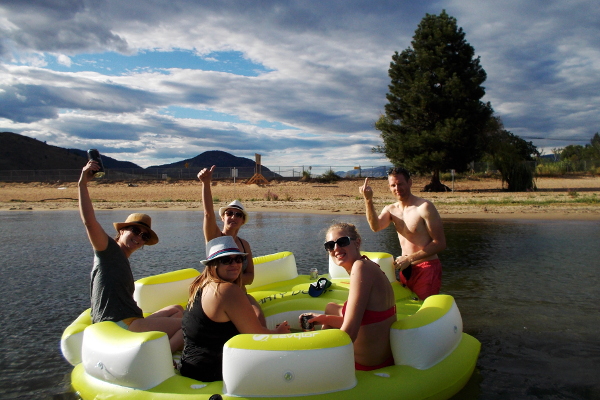 The next day we bought a party island (and extra boat to float our cooler) and did the channel. That's Lindsay and Lisanne in the front, and me, Teri and Braz in the back. Our drinks were perfectly cold (unlike last year camel pack atrocity) and umm… we drank a whole lot of them. It was funnnnnnn.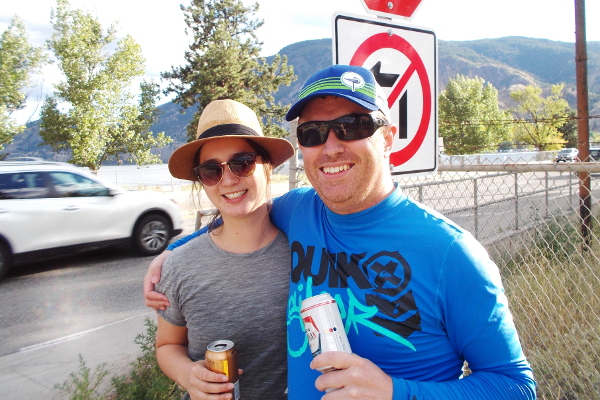 Waiting for a taxi back to the motel.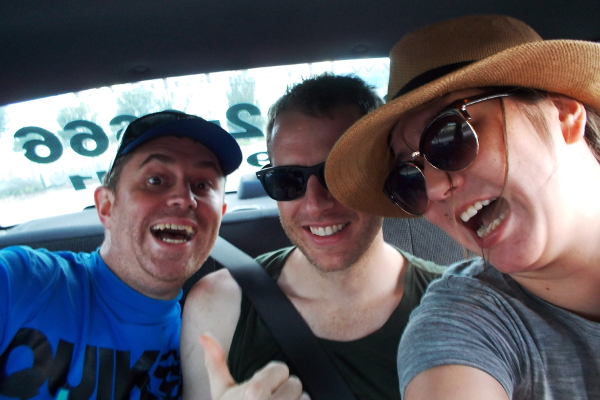 In the taxi. Hahaha.
The next day Lisanne and Braz continued on to Edmonton, and the rest of us moved on to separate hotels (although we would meet back up with Teri and Lindsay for our fancy dinner later).
Scott and I went out for breakfast ice cream at Tickleberry's (nutritious!), where at least this time we knew to get child size. Seriously what kind of child size comes with two flavours??! (I had salted pretzel, and salted caramel). I couldn't even finish mine, I wish they had infant size.
We spent the rest of the day relaxing in different locations. We went to the beach on South part of Okanagan Lake but it was way too windy so then moved to the North part of Skaha Lake. We ate a fancy-schmancy charcuterie board at a fancy-schmancy winery (Painted Rock) on their patio with great panorama views of the lake. Then went back to the hotel pool bar (!!), and then went back to Bad Tattoo for more delicious pizza.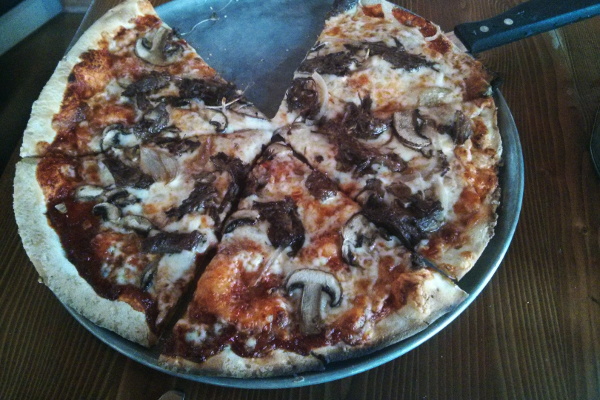 Carolina BBQ – slow roasted brisket, mushrooms, shallots, spicy BBQ sauce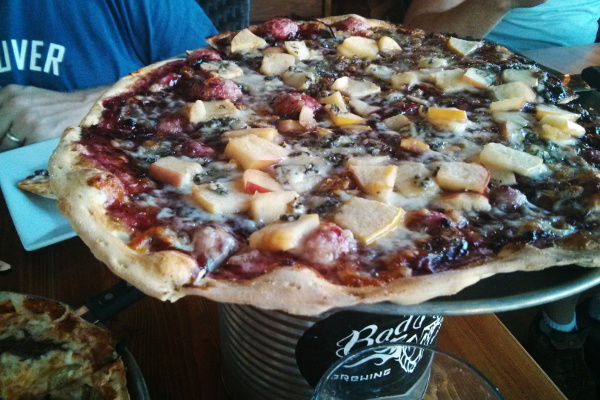 Black & Blue – roasted apple, blackberry compote, blue cheese, toasted malt
Their pizzas are awesome. Super thin crust, tasty toppings. We loved all of them. The only thing was that the Black & Blue pizza was totally different the second time compared to the first. They put waaaay more compote on the second time and it was a bit too much. But mmm that sweet-salty combination.
Avoid peak dinner time if you don't want to wait in line, as it seems to be very busy in the summer.
Saturday Scott and I went down the channel again, just the two of us on the giant party island. It was a very relaxed float, we just drank water, haha. We got quite sunburnt, oops.
Then we drove to pick up Teri and Lindsay and had a fabulous dinner at Seven Stones winery, which I am saving for another blog entry.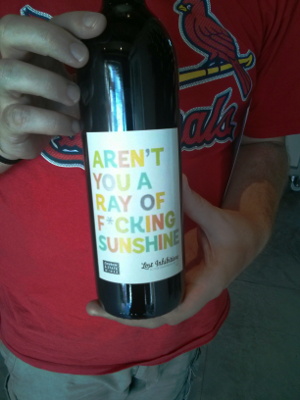 The last day Scott and I took the long way back to Vancouver, via Osoyoos because I really really wanted to go back to Platinum Bench for some ~~artisan~~ bread. We also stopped at a few more wineries too including Church and State which had some hilarious labels and Jackson Triggs to see if they had my favourite $9 chardonnay (they did not, haha).
We slow roasted ourselves the whole way back in the car at 38 ºC with no air conditioning. It was…. uncomfortable. And we drove past this amazing looking swimming hole, just before Princeton I think, but by the time I saw it it was too hard to turn back and I still feel regret even now a month later that we didn't go back. It was like a mirage. I mean… WE MUST GO BACK.