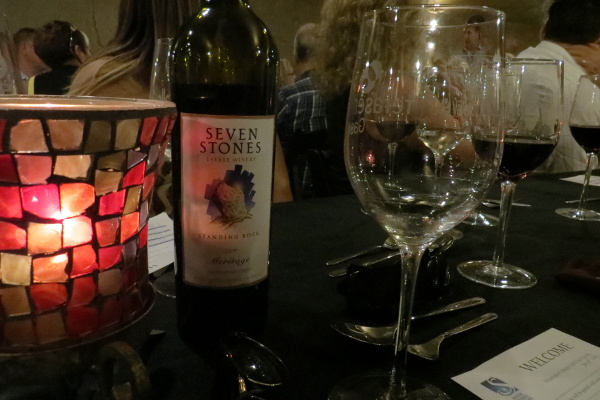 Teri organized for Scott and I to go to a fancy winemakers dinner with her and Lindsay at Seven Stones winery in the Similkameen Valley. Teri works with Seven Stones, so she knew George, the winemaker already. The dinner took place in the "caves" underneath the winery, where it was MUCH cooler than outside (thank goodness).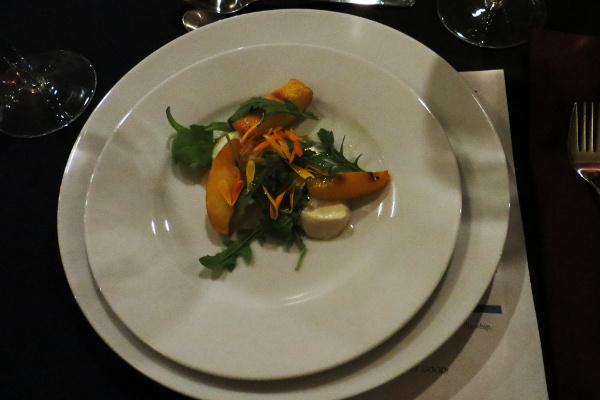 First course: Local Organic Peach Salad (grilled peach, arugula, bocconcini, white balsamic reduction), with 2012 Chardonnay
Light and tasty. I came to the dinner armed with antihistamines because I figured they would be using lots of fresh Okanagan produce, and unfortunately I am allergic to a lot of it. But it's so good it's worth it. The peaches were sweet and juicy and the balsamic reduction was amazing.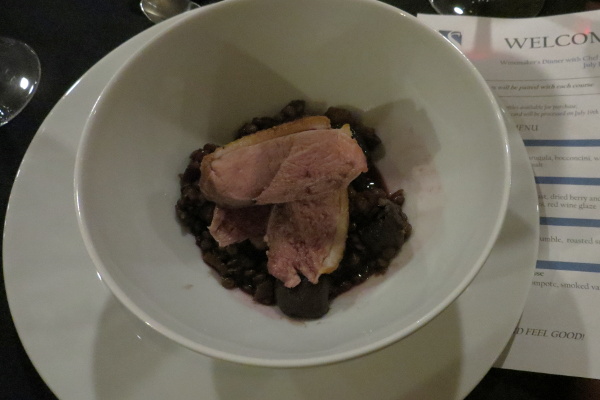 Second course: Smoked Duck (Fraser Valley smoked duck breast, dried berry, du puy lentil stew, cherries, red wine glaze), with 2010 Pinot Noir
Tender duck over tender lentils with pops of sweetness from the cherries. The only thing was that it was kind of hard to cut the duck in such a deep bowl.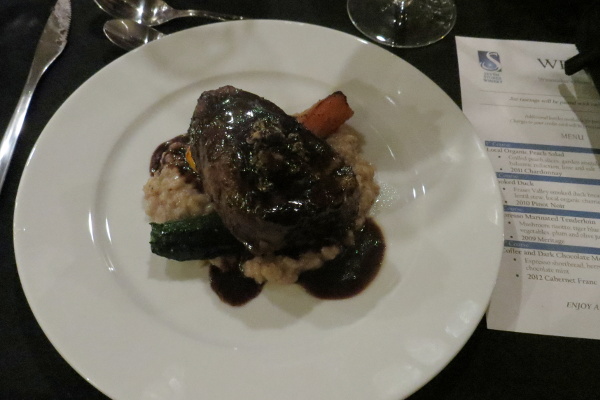 Third course: Espresso Marinated Tenderloin (beef tenderloin, mushroom risotto, tiger blue crumble, roasted summer vegetables, plum and olive jus), with 2009 Meritage
Perfectly rare beef over creamy cheesy risotto, om nom nom. It was a huge chunk of meat but we all finished it all because it was so delicious. I loved the little baby zucchini pieces as well. Oh and the Meritage wine was really good, it's sooo smooth. I don't even usually like red wine that much! Too bad it's $35 a bottle, ha.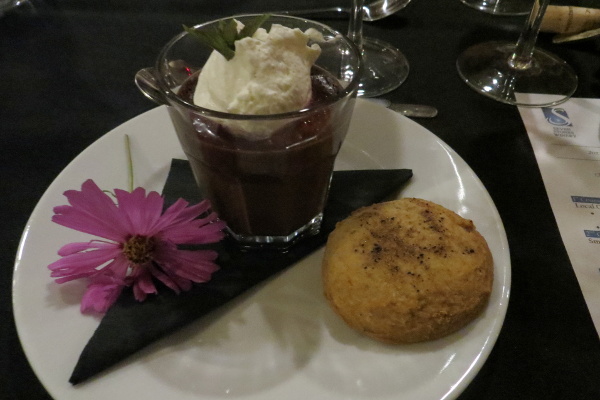 Fourth course: Coffee and Dark Chocolate Mousse (chocolate mousse, espresso shortbread, berry compote, smoked vanilla whip, chocolate mint), with 2012 Cabernet Franc
OMG and then the dessert. The chocolate mousse was ultra smooth and not too sweet, with a perfect melt-in-your-mouth buttery cookie, and little bits of slightly sour berries to balance it out. Amazing.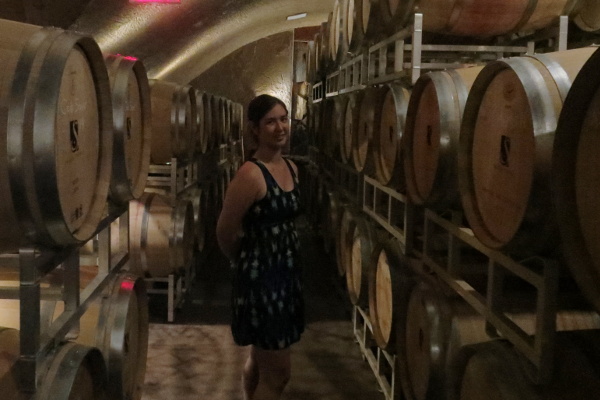 George took everyone on a quick tour of the barrel rooms, pointing out the water feature (to keep the humidity levels just right) and the speakers from which they are going to start playing classical Baroque music (the particular vibrations are supposed to cause the yeast particles to eat more sugar and produce lower sugar, tastier wine quicker). Kinda neat. I suppose we will have to wait and see if that actually works…