Wahhhhhh Rosemarie has left the country. :( :(
It was very nice having her stay with us for the last 2.5 weeks (although she wasn't here for lots of that time). I liked having her living in the corner of our living room. We played a lot of games and watched a lot of Seinfeld! Plus she did the dishes and took out the garbage, hehe.
Last night her and I went to see the movie Collaborator. I had won tickets to see it from the newspaper. I thought it was so-so and at the end of the movie we all got trapped into this semi-awkward Q & A session with the star of the movie. Although he was fine in the movie and I recognized him from the show Weeds (Peter Scottson), I just wanted to go home.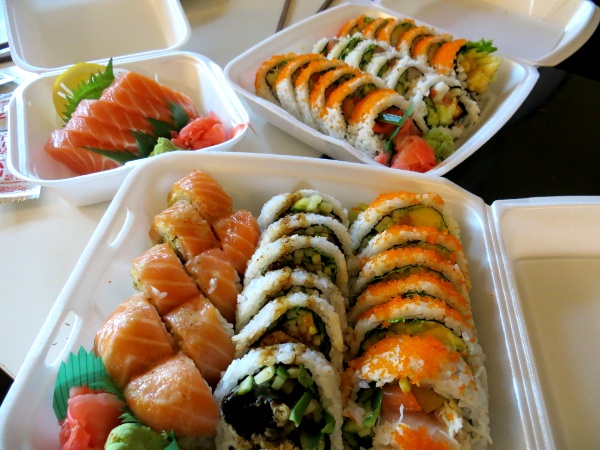 Some tasty sushi the other night from the Sushi Garden near our house. We were planning on eating at the restaurant but there were TWELVE groups ahead of us! So we got take out instead. The sashimi was awesome and the rolls were all quite good, although very large in diameter which makes for tricky eating.
I've been very busy at work this week. Learning a new camera, a new scanning protocol, learning bone density, doctors reading sessions, plus lots of difficult patients. I am learning heaps and sometimes struggling with all the jobs, but I think I am still doing pretty well overall. By the end of all our clinical placements I have no doubt that I will be totally ready to work as a nuclear medicine technologist.