This past weekend I competed in the BCBSA BC Championship Race up in Whistler. It was a big race for all the different levels of skeleton and bobsled to wrap up the sliding season. Provincials! We had official training on Friday night, then heats 1 & 2 on Saturday, and heats 3 & 4 on Sunday.
There were 7 of us sliding from corner 3. Our coach said we would do a consistency race since we are all different sliding levels. The person with the smallest time difference between their slowest and fastest run would win. Maybe not the best way to calculate consistency in a four heat race, since the track had quite different conditions each day, but that's what they decided on.
Training went fine, and my first and second runs were okay. They weren't my best runs ever by any means, but they were very consistent. I was sitting in 2nd place with a time difference of 0.12 seconds after heats 1 & 2. Unfortunately my third run was very very slow. The ice was very soft and there was snow on the track. My gap widened to ~2.5 seconds!!!! For my fourth run I just tried to slide something in that (very large) window between my first couple runs and my third run, which I did. But that 2.5 second difference put me out of the running for medals. Bummer.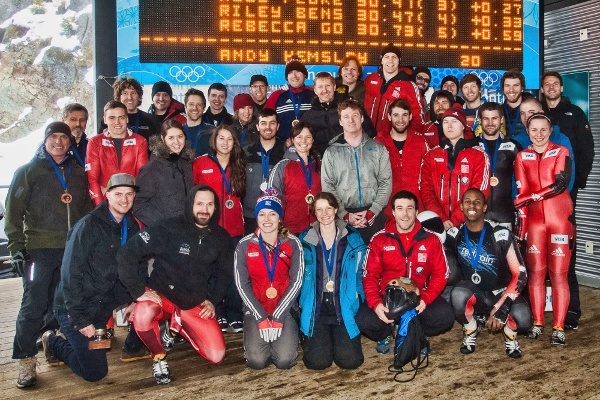 Ah well, it was still fun hanging out with all the other sliders. No one crashed and everyone had a good day. All in all it was a very enjoyable race experience. I will have to wait till next year to try and get my first skele medal!!