Woke up this morning to an offer of admission to Michener, for xray. Hooray, kinda. Michener is Plan C at this point. Nice to have something though, as long as they don't force me to decide yes or no too soon.
As promised I have some food to talk about.
"Mexican Lasagna"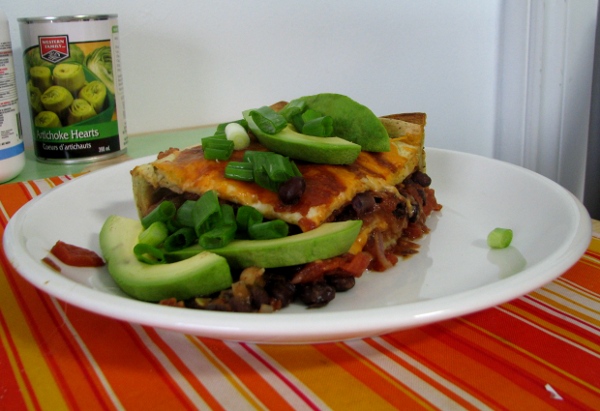 We had a bunch of tortillas that we needed to use up so I invited some kind of mexican lasagna. Mexican food amuses me, because it's pretty much always the same ingredients, but in different combinations and formats.
For this one I stir fried some red onions and garlic, dumped in a can of rinsed black beans, and a tin of diced tomatoes (not ideal, but I was feeling too lazy to use fresh tomatoes), some frozen corn, and cumin and chili powder.
When that was cooked a bit I layered it with some tortillas and cheese in a baking dish. From bottom to top: mixture, tortilla, mixture, tortilla, cheese, tortilla, mixture, tortilla, cheese. Then I baked it at 350ºF for about 25 minutes, then topped it with some green onion and avocado. Delicious!
Homemade Strawberry Daiquiris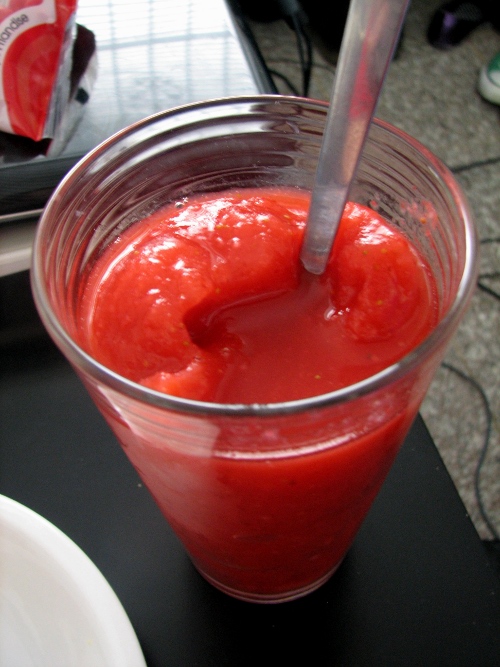 Our local grocery store has big boxes of Californian strawberries on sale a lot. Last time I bought one I ate all the ones that looked decent (three years working for Shouldice has turned me into a total strawberry snob) and then cut the top off the rest and froze them.
To make the daiquiris I tipped a bunch of frozen berries, a couple tbsp of sugar, a couple shots of rum, and a little bit of lemonade at a time into the blender. I always end up making too much though because you have to use a fair amount of liquid to get the blender circulating. :/ Anyway they were delicious and I like the all natural bright red colour!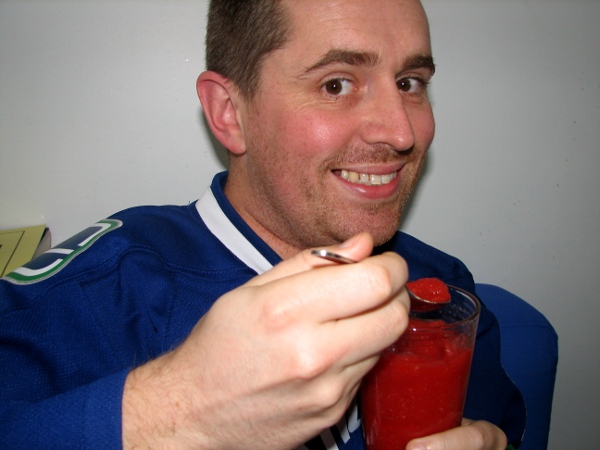 Black Bean Burgers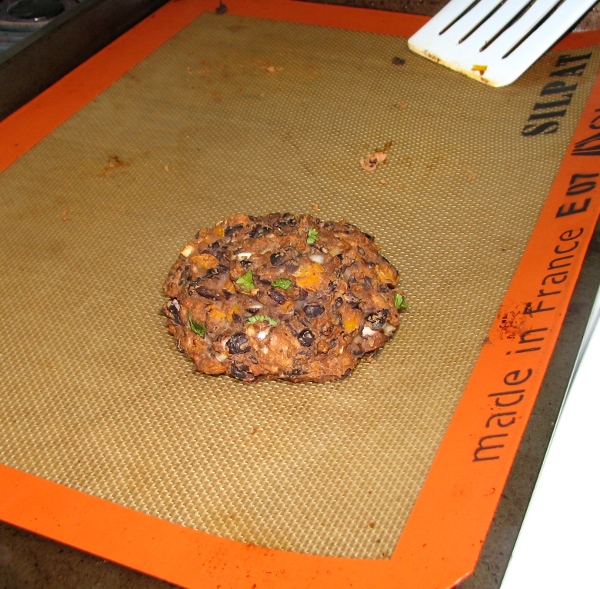 Ugh WORST PICTURE EVER! This was the leftover patty. We devoured our burgers too fast to get a good picture!! Anyway these are really really delicious and I highly recommend giving them a try if you want to have something other than a beef burger.
1 can rinsed black beans
1/2 large green pepper, diced really small
1/2 onion, diced really small
2 cloves garlic, diced really small
cilantro, optional if you're one of those who hates the stuff!
1 egg
1 tsp chili powder
1 tsp cumin
1 huge squirt sriracha
2 pieces toast, chopped up
Preheat the oven to 375ºF. Mash the beans in a bowl until they are pretty demolished. Add everything else, and mix. Form into patties, then bake ~20 minutes. Be careful when you pick them up, they sometimes crack.
Use in a hamburger bun with mayo, spinach, tomato, cheese, and/or whatever else you like on a burger!
Vegetarian Sushi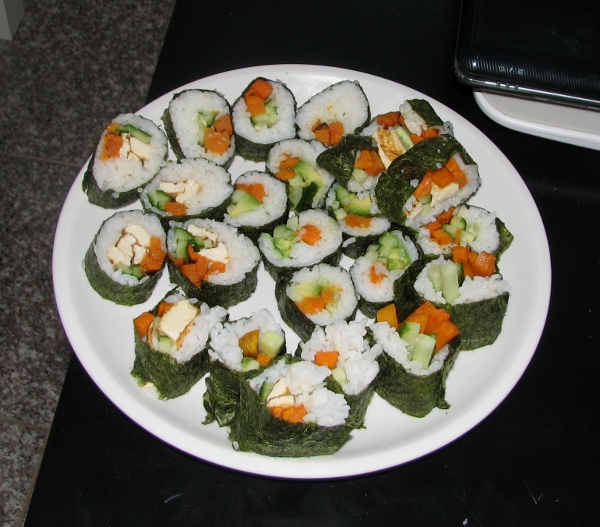 So I had my first go at making sushi with no supervision. It only had avocado, cucumber, sweet potato and marinated tofu because there was a bit of a seafood shortage that day. Well they tasted good but I don't understand why all my fillings ended up on one edge and all the rice on the other! I need a sushi lesson.