Our trip to Vancouver was hectic AF. We had checklists, Google documents, Facebook events, a detailed calendar, and group chats just to fit everything we wanted to do (and eat! #nomealleftbehind) on the trip. It worked though, the trip was very successful.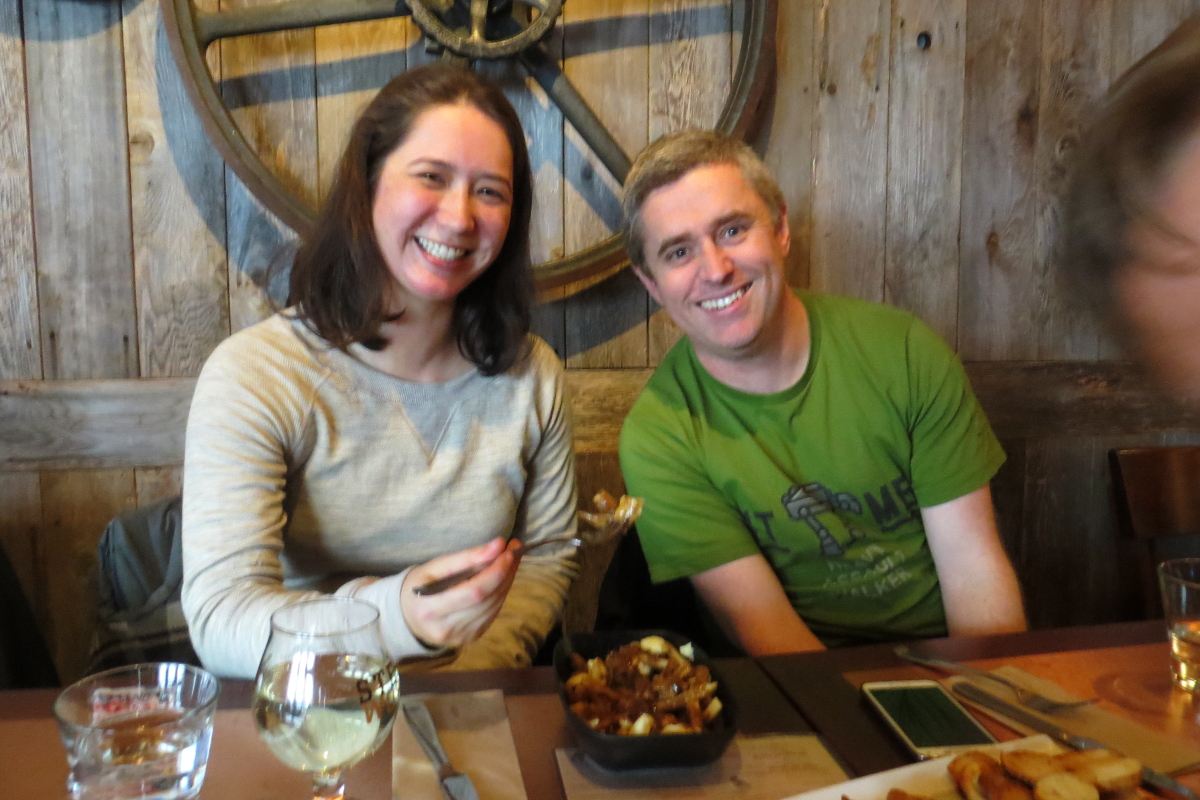 Second meal of the trip: poutine. (First meal was perogies at Rosemarie's house.) #nomealleftbehind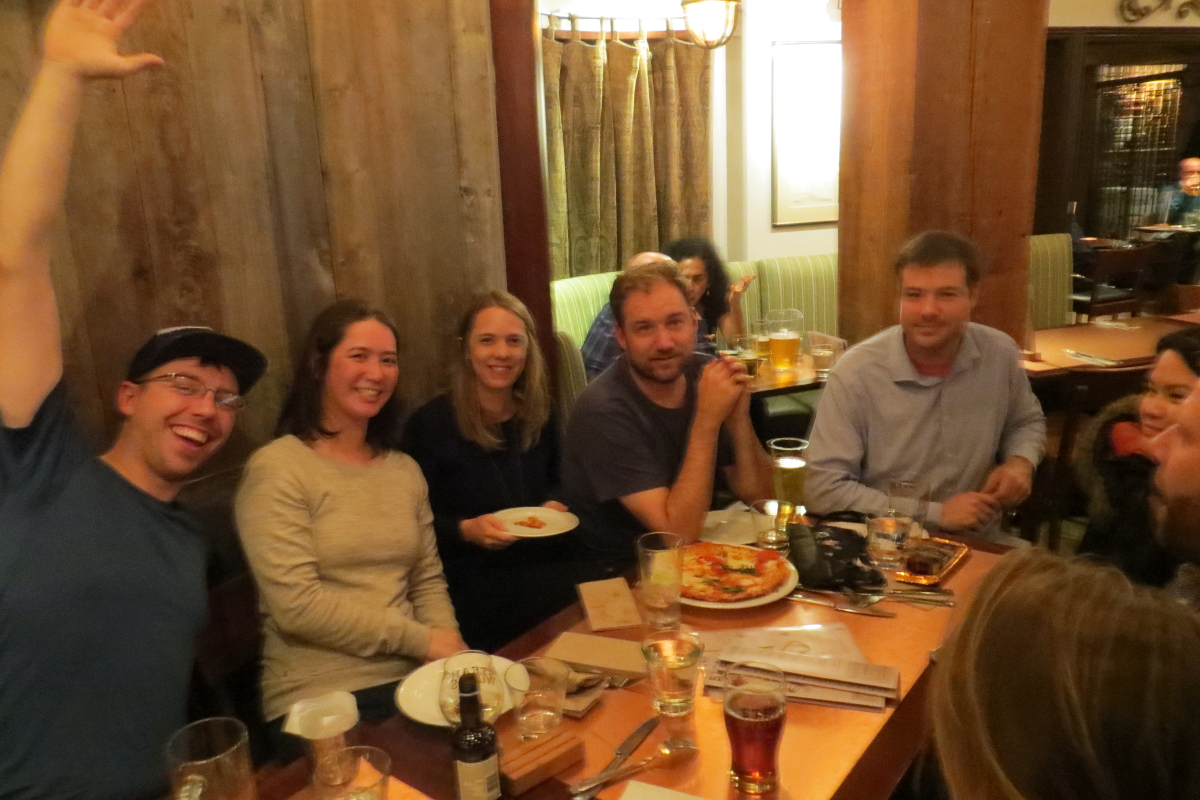 We tried to see as many as people as we could right away (and beat jetlag) by booking a big table at Steamworks for the first night. Scott's whole old work team showed up, plus the whole Ryan Ryan and Brian group, and good old Liz and Rob, and Rose and Lauren of course. It was fun.
The next day we headed to Salt Spring Island, and Seattle as well, which I'll save for separate blog posts.
Scott's friend Hannah from London just happened to be visiting Vancouver for one overlapping day. We met them for porchetta at Meat & Bread (#nomealleftbehind) and Scott walked all around the seawall with them while I took off to visit my old work and pick up some Darn Tough socks for all my poor Australian friends who I've convinced they are the best socks ever and can't get them here. Sorry, sort of.
The next day dad arrived. We picked him up and made him tag along to the hockey store where Scott got a whole kit. So much cheaper than Australia.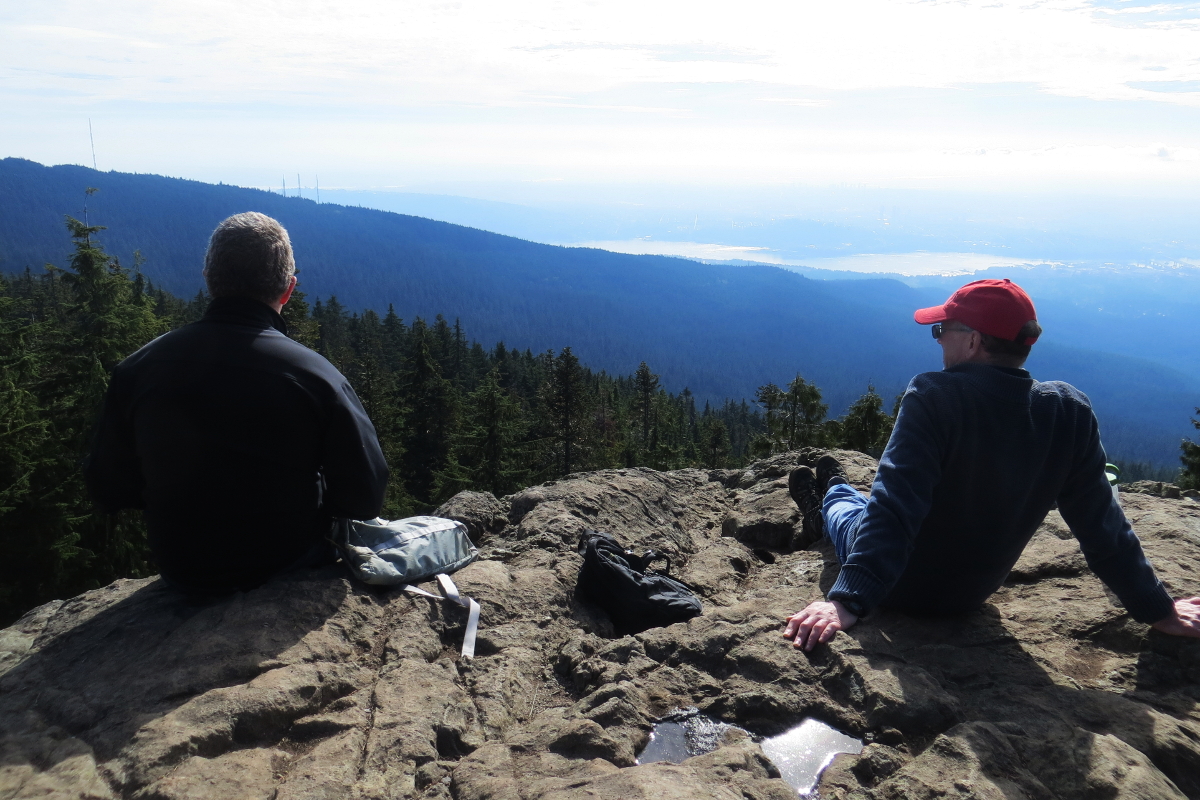 It was a beautiful day so we drove up to the top of Mount Seymour to do a short hike (Dog Mountain). It was harder than I expected because it was so rooty, but we made it. The view from the end was very nice. It was a little hazy but you could still see the whole city.
The next day dad went for a big bike ride, Scott went to visit his old work, and I had training. I managed to keep up with all my weightlifting training while I was gone which was so good because I have a competition coming up next week. Rose actually lives within walking distance of the old gym I used to go to when we lived there and Al was very nice to make space for me. It was so confusing training in pounds again.
That evening we went to the SFU observatory where lots of space nerds showed us stuff with their telescopes. We could see Saturn's rings!! It was pretty cool. Rose gave us a tour of her old uni and then we had some late night ice cream, yum yum.
Saturday was an insanely busy day. We squeezed in three different events with three different groups.

1. Dimsum with Rosemarie's friends. Scott is so creative with his panoramas. Can you guess how he took this one?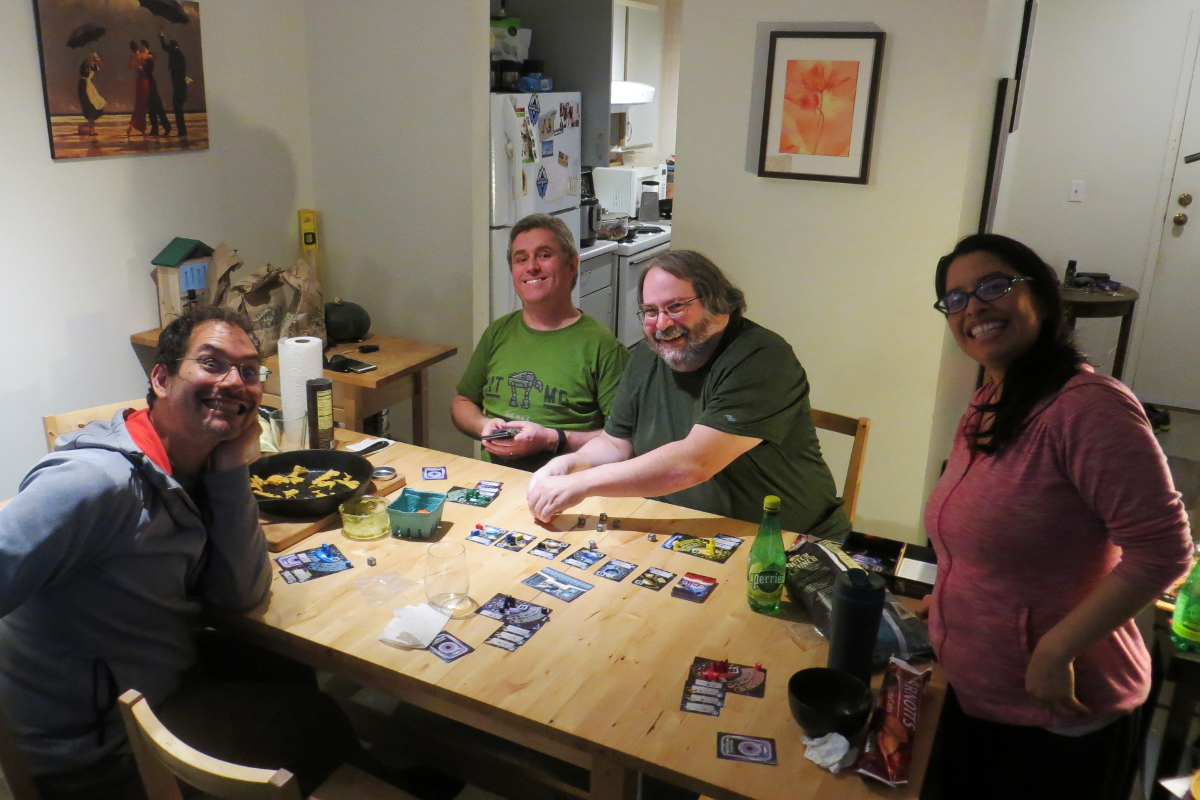 2. We got the old game gang back together and had a games day like the old days! We played Mysterium, a space dice game, Sushi Go/Sushi No (where you try to get as few points as possible), ate nachos and Smartfood popcorn (#nomealleftbehind), and caught up on all the gossip. Was great.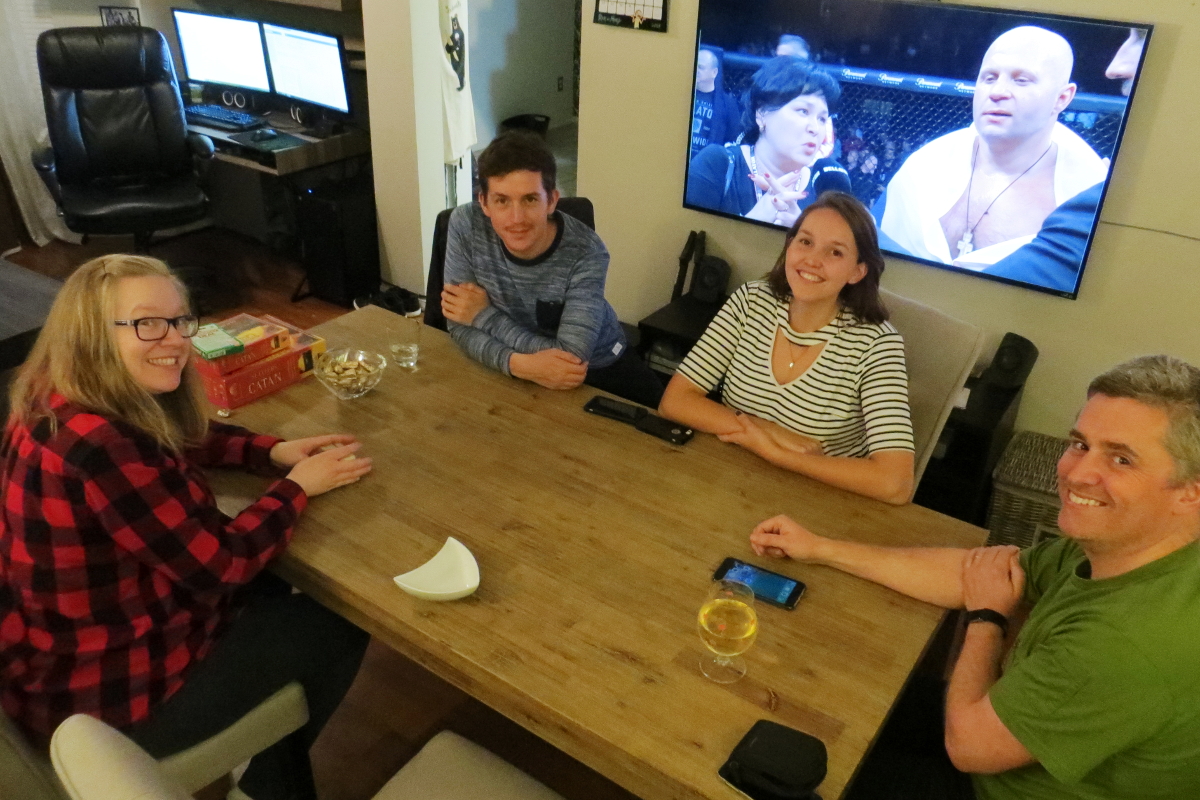 3. Dinner and games with Lesley and Jean Pierre (not pictured). She made really delicious tacos, and we played Settlers (of course!!). We also played Monopoly Go. I miss having a friend like Lesley around.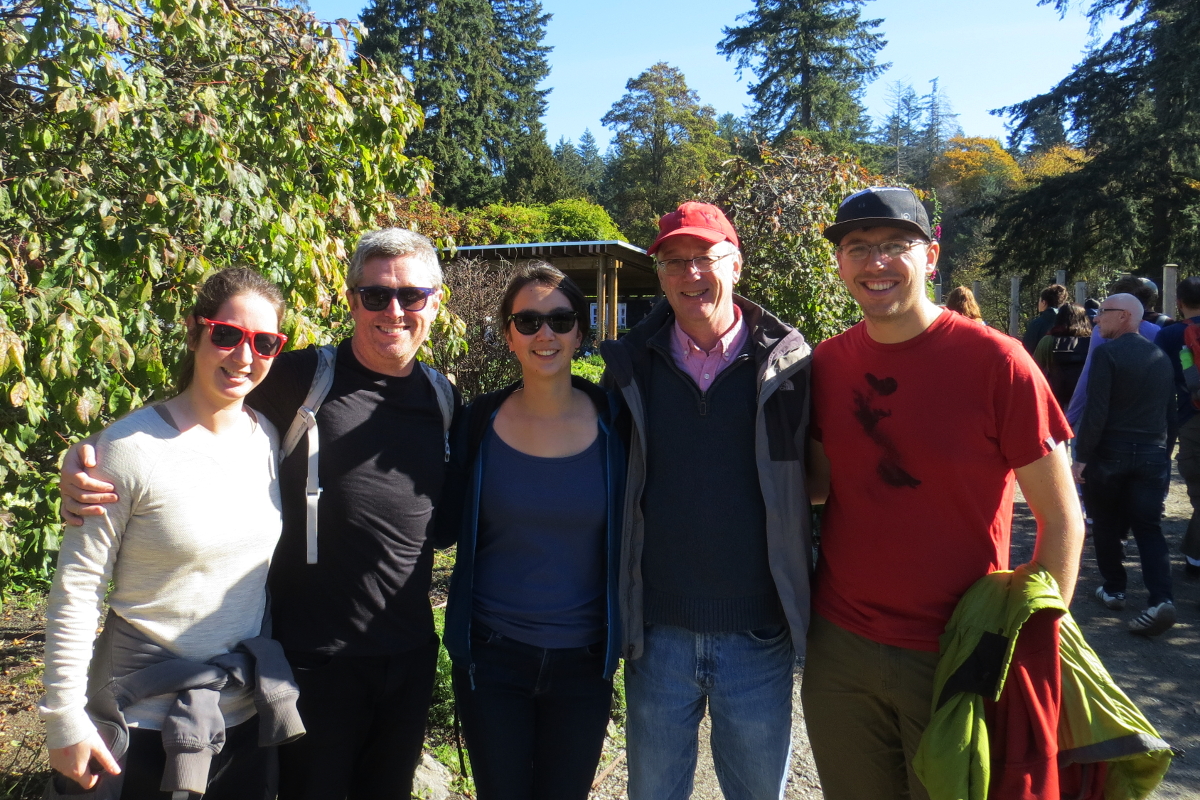 Finally the last day of Scott's trip we trekked out to UBC for one of our favourite Vancouver events, the apple festival. Rose, Lauren and dad had never been! (It was Scott and my fifth time, haha). We tasted all the apples, ate apple pie, drank apple cider, and learned all about plant medicines. I forget what my favourite apple was, but of course it was something kinda mushy. The sales area was completely wiped out so we couldn't buy anything.
Then we dropped Scott off at the airport. We all wish he could have stayed longer.