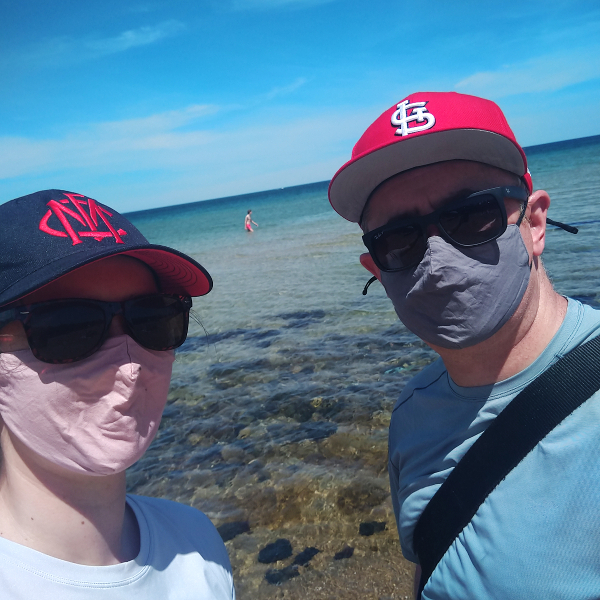 OK well I didn't blog much this year… let's just do a quick recap of this year and move on…..
The year started off great, we moved into our own house, went camping with friends, and training was going well leading up to the first competition of the year. We had a really nice visit with Kyla and then… everything got cancelled.
Scott had to go down to reduced work hours, and I started training alone in the cold cold garage. At first lockdown was ok, we played all the board games! Cooked all the foods! Did online trivia! Watched Ben Folds live on Youtube every weekend! Life was cozy and novel. An introverts dream.
A couple of months of lockdown worked enough that they started to relax the restrictions. We had a few weeks of freedom. Scott's work went back to normal. We saw our friends. We had family dinner. We went out for brunch. We planned some things!
Then cases started rising exponentially and they put us in a very tough lockdown, with a 5km radius restriction and only 1 hour of outside time per day. Cases went down but they kept us locked in. For literally months. It was really hard. I definitely got depressed, especially while seeing the rest of the world frolicking around restriction-free.
Finally, finally after WEEKS of zero new covid cases, they started to let us out. We could have picnics! We could travel further than 5 km! The gym reopened!!!!!!! Cases stayed down and we went back to nearly normal life! We went to Bendigo! We went camping! We don't have to wear masks! It's amazing!
This December has actually felt like a normal silly season. Even though I find it really overwhelming I'm trying to do as much as possible while we can because Covid is back in Australia (in Sydney) and we still don't have vaccine here, and who knows what's going to happen in January. I made a list of Freedom Goals and we just checked off the last thing last week: buy a new couch (as Rosemarie put it: "we spent so long sitting that our couch was permanently saggy so we bought a couch suitable for old age"). Can't wait for it to arrive in 19 weeks. :/
---
Rosemarie's Questions From Last Year:
PBs: snatch 46 kg -> 47 kg (in the garage, where everything feels 5 kg heavier soooo….), clean & jerk 54 kg -> 55 kg…. which is also not that big of an improvement… but I actually full-cleaned it which is a major major win. I only did one competition this year, last week, without peaking, where I did 42/44/46, and 49/52/55. That was a 3 kg snatch comp PB, a 1 kg clean & jerk comp PB, and a 4 kg total PB… my first time with a 3 digit total (101 kg). Even though my numbers barely went up, I am actually very proud of what I managed to do this year, training alone in the garage for 6 months, more than 110 sessions. I have a new coach since Lockdown 2.0 and it has been working very well. Weightlifting is really good at the moment.
Books: I read a lot this year, to try and relax before bed.
The Wonder – Emma Donohue – Intriguing, couldn't wait to find out what happens, but I thought the ending was just a bit too quick and convenient imo.
Such A Fun Age – Kiley Reid – I really liked this book. The main character was just so chill. My favourite line was "May I please have an Uber and a snack?"
This Is Going To Hurt – Adam Kay – Silly stories about being a doctor. Amusing, sometimes gave me work flashbacks.
Where The Crawdads Sing – Delia Owens – Started off very heartwarming, then got more intense, I enjoyed it.
A Little Life – Hanya Yanagihara – One of those long books that follows a group of people for a very long time. At times very hard to read, made me feel super uncomfortable, but very good too.
Conversations With Friends – Sally Rooney – An interesting book about affairs.
The Stand – Stephen King – Extremely long, took me 3 months to finish. The first part was pretty terrible to read during a real life pandemic. Was entertaining but didn't change my life.
Normal People – Sally Rooney – Someone else called it a "profoundly lonely and depressing love story" and I guess I agree with that.
Hotels Of North America – Rick Moody – I don't know who recommended this to me but I thought it was annoying.
Eggshell Skull – Bri Lee – A memoir about an Australian lady while she worked as a judge's associate in all sorts of horrible sexual assault cases, and then her own experience in the Australian justice system
New Board Games:
Wingspan – A very pretty game about birds. We love it. We just got the Oceania expansion a couple weeks ago but I haven't had the mental energy to try it out yet!
Orleans + Trade & Intrigue expansion – The base game is ok but it's much better with the expansion. Unique game with little bags of tokens. I would really like to play this with 3 or 4 players
Castles of Burgundy – Fun point salad game with one billion little pieces. I forget how to play every time but once you remember it's fun again.
Tiny Towns – Simple strategic game, the best type! We had a lot of fun playing this with Rosemarie over video chat during lockdown.
Great New Recipes: enh I already posted about the fun things we cooked in Lockdown 1.0, and after that I got depressed and pretty much only made 10 minute simple dinners.
Adventures: ummmm… yeah not really. Everything got cancelled.
---
2019 Final Thoughts – 2019 was not the most exciting year of my life, but we put in a lot of good work to our future. We did the hard stuff of finding a house, working hard, saving, rehab… and very very soon we get to enjoy the benefits of that. I feel very good about 2020.
LOL.
Last Years Goals:
More nice foods – yes, we cooked all sorts of crazy delicious things during lockdown 1.0, and also had some fantastic takeaway
More rehab – yes, had plenty of time for foam rolling
More thrift shops – nope, they were closed/I don't go to the store ever
More art – yes, I did a lot of cross stitching, painting, cartooning
More friends – lol nope, didn't even see my friend who lives around the corner for months because it wasn't allowed
More pictures – nope, barely took any
Less worrying – NOPE. worried x 493879348
2020 Finals Thoughts – Super grateful that we had our own comfortable house to lockdown in. Grateful that neither of us lost our jobs. Grateful for my home gym and remote coach. Grateful that the hard work all Victorians did during the winter lockdowns paid off and we actually get to enjoy our summer Covid-free (so far). Come on vaccine. I would really like to see my family again.
Goals For Next Year:
Whatever man. Just survive.