Oh my. Our house smells sooooooo good right now. Scott made blueberry muffins and despite me not liking cooked fruit, I am drooling all over the place.
We also had a lovely dinner. Banh mi and some excellent homemade fries on the side. Nice work Scott!!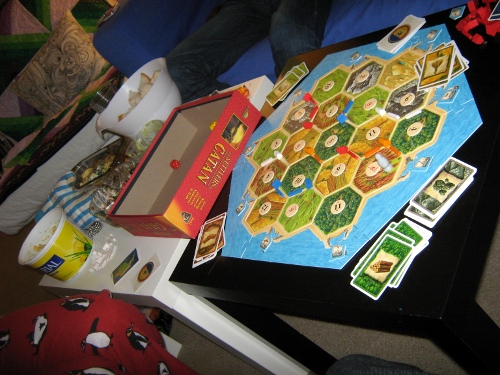 Yesterday revolved around dips. Scott made jalapeno cheddar hummus, I made guacamole, and spinach and artichoke dip, and Rosemarie made 7 layer dip. We ate everything with baby carrots, corn chips, and crusty bread. We also had some spicy wings. All while watching the Superbowl playing boardgames and having a few drinks with the Superbowl on in the background.
The hummus was nice!! I wouldn't make it for an every day snack, but it was a nice change from regular hummus. I never would have thought of putting cheese in hummus, but it was goooood.
Unfortunately we took no pictures of the food. Blogger fail.