Not really the best year… we spent at least part of 7 out of 12 months in lockdown here in Melbourne. I got pretty depressed, especially when I thought about how long it had been since I saw my family, and how much longer it was going to be.
However we have really learned to take advantage of what you can do when you can do it and still managed to squeeze in a fair amount of fun stuff.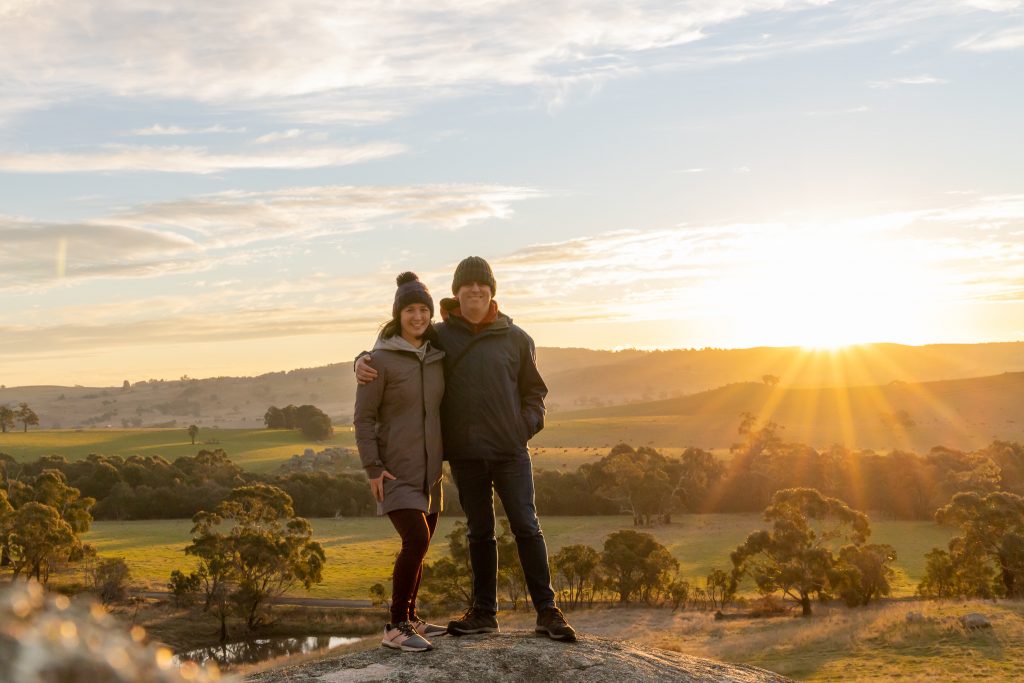 Some good things that happened in 2021:
We still managed to find new places to explore in Victoria. We went to Bright, Echuca, Pyalong, Warburton, Little Desert, and Walkerville (post to come). I think the only corner of the state we haven't visited yet is Mildura… maybe next spring? There's a good birding area near there.
I made a lot of new friends through a Melbourne Discord group.
I picked up a few new hobbies: photography, knitting, pottery, weaving, and bird watching.
The Dees won the AFL Grand Final.
I became Australian.
Work has been fine. We were pretty busy, but I am lucky that my hospital is a "clean" hospital and we don't actually have any covid patients. Occasionally we have to put on all the PPE for unvaccinated patients, or lung scans, but in general I have it pretty easy compared to many other healthcare professionals.
Same questions as last year:
PBs: snatch 47kg -> 47kg, C&J 55kg -> 58kg. My back squat also improved a fair bit. Not bad for mostly training alone in the garage I guess. I'm glad my clean and jerk improved but I wish I didn't waste a snatch attempt at my last comp and didn't get to try for a new snatch PB. I knew I could do it! Hopefully we get to compete more often next year.
New board games: Only one… Caverna. Thank you to Vicky and Pat for mailing all their children a gift card to buy something to cheer ourselves up during the darkest part of lockdown 6.
Books: I didn't read that much this year. I spent most evenings trying to get dopamine from endless Instagram scrolling. I have lots of books on my list to read next year though. Here's the few I did read:
Sins of the Brother: The Definitive Story of Ivan Milat and the Backpacker Murders – Les Kennedy and Mark Whittaker – disturbing, interesting, not the best to read right before bed
American Dirt – Jeanine Cummins – page turner, people hate this book though?
Anxious People – Fredrik Backman – hard to get into at first because writing kind of weird I think – didn't finish
Boy Swallows Universe – Trent Dalton – writing a bit funny and hard for me to follow but then got good, Australian
Nothing To See Here – Kevin Wilson – strange one, i liked it
The Midnight Library – Matt Haig – corny, predictable
The Song of Achilles – Madeline Miller – someone on instagram tricked me into a reading a mythology book! I wish everything I had to read in school was written like this.
Great New Recipes: Again, didn't really cook that well this year. Just didn't have the energy. But here's a couple:
Oh and a cheddar update for Rosemarie: I just cut open the bag, which had a disturbing amount of liquid squishing around with it… and NOOOO… it smelled like winey-cheese-barf. Did not try. I put it in the bin.
2020 Thoughts: Super grateful that we had our own comfortable house to lockdown in. Grateful that neither of us lost our jobs. Grateful for my home gym and remote coach. Grateful that the hard work all Victorians did during the winter lockdowns paid off and we actually get to enjoy our summer Covid-free (so far). Come on vaccine. I would really like to see my family again.
Well we got the vaccine at least… Scott and I are both triple vaxxed as of a few weeks ago.
Last years goals: Whatever man. Just survive. (yep, accurate.)
2022 Goals: I dunno. Not get covid?
2021 Final Thoughts: This year is finishing off pretty nice… the weather is great, we got to have a normal Christmas, and it's summer fun times all the time. The government has completely changed their stance on covid and now we're just letting it rip? We'll see how this goes. I'm just hoping it lasts because we have a few big things planned in 2022 and I REALLY hope they don't get cancelled.