Only 22 more days left for me to complete my summer goals list!!
Finally paint the cheapo wooden drawers we got from IKEA. I think I'm going to go do this RIGHT NOW.
Make delicious popsicles in my new popsicle mold. once (strawberry lemonade). twice (strawberry frozen yogurt). thrice (strawberry raspberry vanilla frozen yogurt).
Go swimming in the ocean for the first time in Vancouver. done!
Ride the rides at the PNE. well we went on ONE ride. :/
Watch fireworks. done.
Finish my Settlers paintings.
Sell a pair of shoes or a shirt or a painting.
Read some books while I actually have the time. Insurgent (Veronica Roth), Let's Pretend This Never Happened (Jenny Lawson), The Art of Fielding: A Novel (Chad Harbach), Geek Love (Katherine Dunn), currently reading Gone Girl (Gillian Flynn).
Make a nicer looking menu planning board. done!
Find a new person to play board games with. done!
Try a new fruit. I guess fresh figs counts for this one.
Do a successful venipuncture on a real patient. I've done about 75 now.
Make a new blog header.
Take more pictures. completely failing.
Last night was lots of fun. We drank enormous drinks that had candy in them and I ate SEVEN KINDS OF CHEESE in one meal!! (Our table shared a trio of fries [poutine, fries with gorgonzola, and truffle oil fries with parmesan], I had a three cheese grilled cheese sandwich, and my salad had feta in it). EPIC MEAL.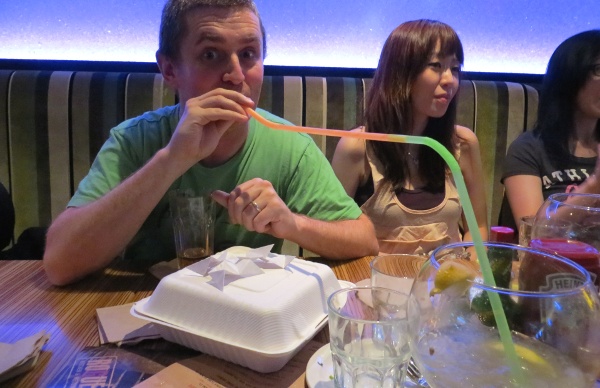 Scott stealing some of my drink.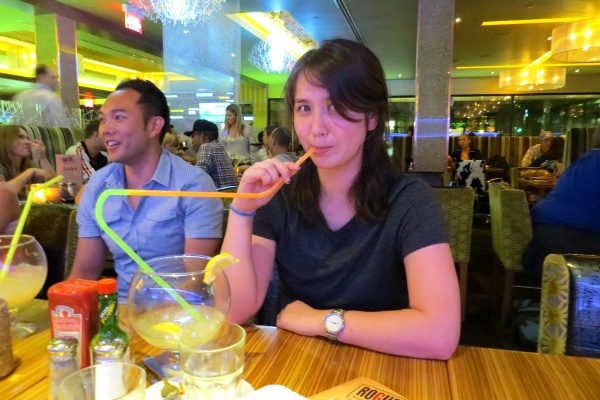 I hope I can get a job at VGH next year. They are really fun/great people there.
Thinking of another challenge for me to do this month: take a photo of every dinner I have. I know I already post food pictures here and there on this blog but I only ever really post the special stuff. I think this month I'll try to document every dinner so you can see some of our more regular dishes. We'll see how it goes.